LONDON (Reuters) - The new World Strip Poker Champion who beat nearly 200 other players celebrated winning the 10,000 pounds ($18,860) prize by removing his remaining clothes, thus securing a further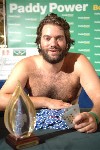 John Young winner of the The Paddy Power World Strip Poker Championship in Cafe Royal London. REUTERS/JASON ALDEN/NEWSCAST
10,000 pounds for charity.
John Young, a 32-year-old freelance writer from Slough, a town just west of London, secured victory after an eight hour competition involving both men and women from 12 countries, organizers Paddy Power said on Sunday.
"We said we would give 10,000 pounds to Cancer Research if John dropped his trousers at the end of the match and he duly obliged," a spokesman for the Irish bookmaker said.
Paddy Power decided to hold the competition after its spoof April Fool earlier this year generated a lot of interest.
The contest was held on Saturday in the prestigious Cafe Royal in central London with players battling it out in games of "No Limit Texas Hold 'em".
Aside from strict rules governing the poker play, there were clear guidelines on the stripping element -- most importantly that each player started the match by wearing five items of clothing supplied by the organizers.
Each contestant was given a towel to sit on and to cover themselves when naked, but only after they had stripped completely.
Paddy Power plc
Airton House
Airton Road
Tallaght
Dublin 24
Ireland
Paddy Power is Ireland's largest bookmaker and is now one of the UK's fastest growing bookmakers. From launching an online sportsbook in 2000, the company has now extended services to include Reverse Auctions, an online Casino, Poker Room plus dozens of fixed odds and multiplayer games.