Mystic Dragon Slots Cast a Spell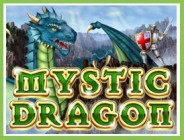 Club USA Casino's Mystic Dragon Slot is a 25 line / 5 reel video slot transporting you to a fantasy land of castles, dragons, knights and beautiful princesses. Ancient scrolls, treasure chests, and fire-belching volcanoes add to the mystery. Get ready to fight the dragon to win more spins and huge jackpots.
SINGAPORE -- As reported by the Agence France-Presse: "Genting International gained full control of a US$3.4 billion (RM13.26 billion) casino project here after shareholders yesterday approved


Genting has won the bid for the second resort casino in Singapore, plans to buy a 25 per cent stake of sister firm Star Cruises.
"...Genting has said it will pay S$255 million (RM566 million) for the Star Cruises stake, which will give it full control of the integrated casino development called Resorts World at Sentosa.
"The resort will include a Universal Studios theme park and the world's largest oceanarium, as well as gaming facilities, and is set to open in 2010.
"Genting and Star Cruises, both part of conglomerate Genting Bhd, in December won a bid to build Singapore's second casino to be located on Sentosa island, off the city-state's mainland..."
Genting International
24th Floor, Wisma Genting
Kuala Lumpur 50250
Malaysia
Phone: +(60) 3 2178 2288
Fax: +(60) 3 2161 5304
Email:
gbinfo@genting.com
Website: www.genting.com
Genting International PLC is a leading integrated resorts specialist with over 20 years of international gaming expertise and global experience in developing, operating and/or marketing casinos and integrated resorts in different parts of the world, including Australia, the Americas, Malaysia, the Philippines and the United Kingdom.