SINGAPORE -- As reported by AFX News: "The winning bid for a multi-billion-dollar casino complex on Singapore's resort island Sentosa is to be announced in early December, National Development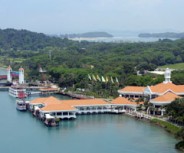 Sentosa will be the site of Singapore's second integrated casino resort.
Minister Mah Bow Tan said in remarks published today.
"'I think whichever one we choose, Singapore will be the better for it. I believe the decision will be likely ready somewhere around early December or so -- before Christmas definitely,' the minister said, according to media website Channelnewsasia.com.
"Mah was also quoted as saying during a visit to China that the Sentosa casino resort will be different in several key aspects from one to be built along Marina Bay near the downtown area.
"'I think in terms of the physical specifications, they are different; in terms of the target audience, they are also different. So we can't compare like for like, but in terms of the quality of the bid, I must say that they are all very good bids,' he added.
"The Marina Bay casino, to be built on reclaimed land by US giant Las Vegas Sands which won the bid last May, will be close to the banking and convention district. Sands says it will spend 3.2 bln usd on the project, which is due to be ready in 2009.
"Sentosa in turn is a family-oriented tourist destination with beach hotels, golf courses, an aquarium and a marina already in operation.
"Bidding closed this month for Sentosa casino, with three groups led by Malaysia's Genting International, Bahamas-based Kerzner International and US-based Eighth Wonder in contention."
Kerzner International Ltd.
Coral Towers
Paradise Island
Bahamas
Phone: (242) 363-3000
Website: www.kerzner.com

Kerzner International is the operator of Atlantis on Paradise Island, a 2,317-room island destination resort complex in The Bahamas. The company focuses on owning, developing or managing casino properties in attractive markets where it can capitalize on its development and operating expertise.
Genting International
24th Floor, Wisma Genting
Kuala Lumpur 50250
Malaysia
Phone: +(60) 3 2178 2288
Fax: +(60) 3 2161 5304
Email:
gbinfo@genting.com
Website: www.genting.com
Genting International PLC is a leading integrated resorts specialist with over 20 years of international gaming expertise and global experience in developing, operating and/or marketing casinos and integrated resorts in different parts of the world, including Australia, the Americas, Malaysia, the Philippines and the United Kingdom.