SINGAPORE – As reported by the Australian: "James Packer's $4.7 billion Singapore casino bid is offering to set up a soccer school run by football star Pele, and to create a reef designed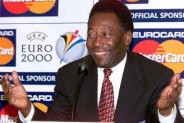 Pele will operate a soccer school at PBL's integrated resort if the bid is chosen by the Singapore governemnt. by the grandson of Jacques Cousteau.
"The latest attractions being offered by the Eighth Wonder consortium were outlined in the final round of presentations this week.
"Mr Packer's Publishing and Broadcasting Ltd is part of a consortium that is offering an increasing array of attractions to win the right to build Singapore's second 'integrated resort'.
"It is offering to spend around $4.7 billion building a casino to be run by the Crown group; several luxury hotels; a $200 million, 5000-seat sports stadium; an aquatic resort and other attractions.
"The ambitious bid has already topped its two contenders in dollar terms. Its rivals are Singapore's CapitaLand, which has linked with Bahamas-based casino operator Kerzner International and Malaysian casino operator Genting; and Star Cruises, which is offering to build a Universal Studios theme park.
"Singapore authorities are expected to choose the successful bidder in early December.
"Val Chua, a Singapore commentator, said of the bid this week: 'Even fence-sitters were swayed by Eighth Wonder's dizzying coterie of big-name partners.' But he warned: 'Eighth Wonder's ambitions belie the risks in executing such a big-scale project, especially when it is the only bidder that falls short as far as having an established track record goes.'
"For its final presentation, Eighth Wonder chairman Mark Advent brought Brazilian soccer star Pele to football-mad Singapore. If the consortium wins, Pele is promising to visit Singapore two or three times a year to oversee his first soccer school.
"The school will be run by coaches chosen by Pele while the resort itself will include a football-themed hotel.
"…Eighth Wonder is describing its resort proposal as 'Harry's Island' - a reference to the English name of Singapore's founder, Lee Kwan Yew.
"The proposal also includes the world's first man-made coral reef which as part of a marine centre to be designed by Philippe Cousteau, grandson of French ocean explorer Jacques Cousteau.
"The Las Vegas Sands group won the right to build Singapore's first casino/hotel project, in its Marina Bay area, in May.
"Meanwhile in Hong Kong this week, PBL's casino partner Melco said controversial Macau casino veteran Stanley Ho would have no material shareholding in the company following the sale of a 4.2 per cent stake last Friday.
"…Stanley Ho is gearing up to list his Macau casino operations on the Hong Kong Stock Exchange while Mr Packer and Lawrence Ho are hoping to list a 15 per cent stake in their Macau casino business on the Nasdaq by the end of the year."
Las Vegas Sands Corporation
3355 Las Vegas Boulevard South
Room 1 A
Las Vegas, NV 89109
Phone: (702) 414-1000
Website: www.lasvegassands.com

Las Vegas Sands Corporation owns and operates casino resorts, including The Venetian in Las Vegas and The Sands Macao Casino in Macao. The company is also developing casino resorts and properties in Las Vegas and Macao, including The Palazzo Resort Hotel Casino and hopes to build a casino in Singapore.
Publishing & Broadcasting Ltd.
2nd Floor, 54 Park Street
Sydney, NSW 2000
Phone: (02) 9282 8000
Fax: (02) 9282 8828
Website: www.pbl.com.au

PBL is one of Australia's largest diversified media and entertainment groups. PBL owns and operates two of Australia's leading gaming and entertainment complexes, Crown in Melbourne and Burswood in Perth.