LAS VEGAS, Nevada AND LONDON, England -- As reported by the Press Association: "The world's largest gaming company was today said to be eyeing the takeover of two major casino operators in a bid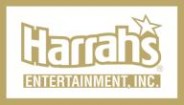 to break into the British market.
"Harrah's Entertainment, worth around £6 billion, is reportedly studying a proposal to buy Stanley Leisure and London Clubs International - two companies involved in their own ongoing £634 million merger talks.
"...According to sources in the gaming community, the Sunday Times said the American group had put together a detailed appraisal of both companies. It is not known whether chief executive Gary Loveman will wait until the completion of the Stanley and LCI merger before making his move.
"However, it is thought that his company is keen to expand its international operations because of concerns about soaring construction costs in Las Vegas..."
Caesars Entertainment
One Caesars Court
Las Vegas, NV 89119
Phone: (702) 407-6000
Fax: (901) 762-8637
Website: www.caesars.com

Caesars Entertainment owns or manages through various subsidiaries more than 40 casinos in three countries, primarily under the Harrah's, Caesars and Horseshoe brand names. Caesars also owns the World Series of PokerŪ and the London Clubs International family of casinos.
Stanley Leisure
Stanley House
151 Dale Street
Liverpool L2 2JW
United Kingdom
Stanley Leisure plc is the largest casino operator in Great Britain with 41 provincial casinos and four in London, including the prestigious world-renowned Crockfords.