UNITED KINGDOM -- As reported by the Scotsman: "Stanley Leisure, Britain's biggest casino operator, said today that its business in Scotland had not been affected by the smoking ban.
"As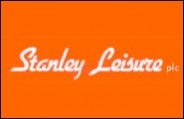 the company posted a near doubling in annual profit, it said the ban on smoking in enclosed public places, introduced in March, 'has not had a material effect on our four casinos in Scotland'.
"Stanley, which has three of its 41 casinos in Edinburgh, including Cascades in Leith, said it made a pre-profit on continuing operations of £31.9 million in the year to April 30, a rise of 97 per cent on the previous year on revenues that were two per cent higher at £224.8m.
"But the company said the start of the current year had been hit by a double whammy of a number of big wins at its London casinos and Italy's success in the World Cup, which had affected its international betting unit.
Stanley Leisure
Stanley House
151 Dale Street
Liverpool L2 2JW
United Kingdom
Stanley Leisure plc is the largest casino operator in Great Britain with 41 provincial casinos and four in London, including the prestigious world-renowned Crockfords.