Gordon Ramsay and Caesars Entertainment has announced that Gordon Ramsay Pub & Grill will open at Caesars Palace Dec. 18, and that Gordon Ramsay BurGR will open at Planet Hollywood Resort &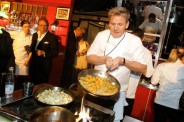 Gordon Ramsay is expanding his brand in Las Vegas
Casino Dec 22.
Following the successful opening of Gordon Ramsay Steak at Paris Las Vegas in May, the opening of Gordon Ramsay Pub & Grill at Caesars Palaceand Gordon Ramsay BurGR at Planet Hollywood Resort & Casino marks three Gordon Ramsay restaurants to open in Las Vegas in less than a year, expanding his relationship with Caesars Entertainment Corp.


"It's been incredible the positive reception Gordon Ramsay Steak has received since opening at Paris in May," said Gordon Ramsay. "We've been developing these different concepts for quite a while to deliver three distinct, unique dining experiences with the variety, originality, and high quality that we believe people want and appreciate."
Gordon Ramsay Pub & Grill, the neighborhood restaurant conceptualized by the award-winning chef, will open for dinner Dec. 18 and lunch in mid-Jan. 2013. The 290 seat restaurant will be the most authentic English pub experience in Las Vegas, as only a native UK chef can provide.

Chef Jeremy Berlin has been selected as executive chef of the novel concept and will oversee the kitchen operations. Berlin moved to Las Vegas from Los Angeles where he served as executive chef of Church and State. Berlin was previously a member of Ramsay's brigade as Executive Sous Chef of Gordon Ramsay at the London West Hollywood and sous chef of Gordon Ramsay at the London NYC.
Acting as two unique restaurants the grill section of the restaurant will feature a relaxed and friendly setting with dishes including New Zealand Red Snapper, lamb T-bone, whole brick pressed Cornish chicken, dry aged 30 oz. bone-in beef rib eye and spotted dog. The pub will feature elevated British pub food in a comfortable and lively setting showing sporting events from across the world on state of the art entertainment systems. The pub includes 36 beers served on tap plus 24 bottled beers. With an eye towards dishes that pair well with beer the pub menu includes English ale onion soup, shepherd's pie, and a selection of sausages, fried egg sandwiches and the classic pub fish and chips.
The center piece of the restaurant will be a striking bar with an array of beer taps and a backdrop reminiscent of iconic British telephone booths. A patio area will extend the restaurant towards the casino floor where guests can be part of the action. Tabletops will be comprised of rustic, pottery inspired dishes layered with unprocessed woods and rugged serving vessels. The uniforms are inspired by the English punk scene and will feature a number of multi-media pieces designed by Allison Leach, a continuing trend with Gordon Ramsay's Las Vegas restaurants. With proximity to the Colosseum, the entrance of the Forum Shops and the self-parking garage, the restaurant will be a convenient location for both locals and visitors enjoying the Caesars Palace amenities.
Four days after the opening of Gordon Ramsay Pub & Grill, the celebrated chef will open his first burger experience restaurant, Gordon Ramsay BurGR, at the center-Strip Planet Hollywood Resort & Casino. BurGR, a name that plays on the celebrity chef's initials, will be located steps from the famous Las Vegas Strip at the entrance of Planet Hollywood Resort & Casino adjacent to the Extra! Lounge.
The BurGR menu will take the traditional burger, fries and milkshake comfort food combination to an entirely new level with selections like pork belly bao buns, sweet potato fries with vanilla powdered sugar and pudding shakes—a heavenly combination of thick milkshake and silky pudding. Whether traditional or unique burger preparations they will be crafted using the freshest, quality ingredients. Paying special attention to not only the ingredients but the method, beef patties will be cooked over an open flame fueled by hard woods, BurGR will be the only gourmet burger restaurant on the Strip to use this technique, creating a more complex and powerful flavor.
Caesars Entertainment
One Caesars Court
Las Vegas, NV 89119
Phone: (702) 407-6000
Fax: (901) 762-8637
Website: www.caesars.com

Caesars Entertainment owns or manages through various subsidiaries more than 40 casinos in three countries, primarily under the Harrah's, Caesars and Horseshoe brand names. Caesars also owns the World Series of PokerŪ and the London Clubs International family of casinos.