Ten Best Casino Bets
by Henry Tamburin

Co-author of Craps: Take the Money and Run and other books, Tamburin teaches the bettor what the 10 most favorable bets are in a casino, including don't pass/don't come with odds; pass line/come with odds; bank & player hand in baccarat; place bet on 6 & 8; single zero roulette; betting strategies; money management; psychology of gambling.

Fooled by Randomness
by Nassim Taleb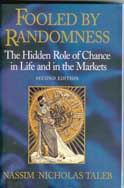 In its second edition, Fooled by Randomness is now a cornerstone for anyone interested in random outcomes. Published in 14 languages, this new edition, expanded by over 80 pages, includes up-to-date advances from behavioral finance and cognitive science. This book is about luck or more precisely how we perceive and deal with luck in life and business. It is already a landmark work and its title has entered our vocabulary.