Cruising the Casinos with Syndicated Gambling Columnist John Grochowski
by John Grochowski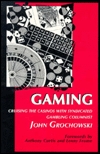 A collection of John's newspaper columns originally published in 1994 and '95, Gaming takes you through his mix of essays, questions from readers and quizzes on topics ranging from blackjack strategy to roulette systems to compulsive gambling.

Tax Guide for Gamblers
by Robert Roche

This was written by a team of gaming tax consultants providing gamblers with valuable information for years. Four sections include: The Origins and Structure of Tax Law; Tax Basics for All Gamblers; The Reporting Rules for Recreational Players; and a special Rules section for professional players.