1000 Best Gambling Secrets
by Bill Burton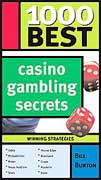 For people looking for an extra edge to improve their game or just the basic knowledge to play the games, Burton offers 1,000 winning strategies and tips to help readers feel at home in any casino. Hints include the truth about the most popular casino bets, what games should you avoid, the ten smartest bets and ten worst bets, getting the most bang for your buck , tricks of the trade and hundreds and hundreds more.

More Sex, Lies and Video Poker
by Bob Dancer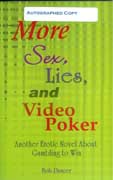 Second in the series of Dancer's video poker fiction, this is an intricately plotted erotic novel filled with the shrewd thinking and elaborate schemes of winning gamblers. It's a fast-moving and insightful book about winning at video poker. It's also about Vegas, baby! Chris is in love with Annie, but Maria wants Chris for an occasional sex-with-no-strings fling. Maria is the mistress of high roller Jimmy, who had a recent affair with Meg, Chris's sister-in-law. Meg's husband Richard, meanwhile, is pursuing Maria, whom Jimmy wants to trade with him for another crack at Meg. The whole ménage is lubricated with alcohol, abetted by guns and martial arts, and inhabited by people willing to lie to those closest to them in order to reach their goals.