Ten Best Casino Bets
by Henry Tamburin

Co-author of Craps: Take the Money and Run and other books, Tamburin teaches the bettor what the 10 most favorable bets are in a casino, including don't pass/don't come with odds; pass line/come with odds; bank & player hand in baccarat; place bet on 6 & 8; single zero roulette; betting strategies; money management; psychology of gambling.

More Frugal Gambling
by Jean Scott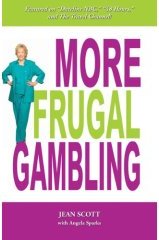 More Frugal Gambling is Jean Scott's long-awaited sequel. In the inimitable warm and reassuring style of the 'gambling grandma,' Scott reveals a further five years' worth of casino experience and exploits. More Frugal Gambling includes extensive coverage of slots, video poker, slot clubs, casino promotions, and couponing, as well as practical advice on keeping money safe, gambling and taxes, and casino security. Scott continues to be a media staple, appearing regularly on the Travel Channel.