More Book Reviews
Best Selling Poker Books of 2014
How did the new books compare to the old classics? Well, we will let the data speak for itself. Take a look at the list of the best selling poker books of 2014.
Deal Me In and Eat Professional Poker Players Alive Reviewed
There isn't a clear path by which people become professional poker players. There aren't any good courses at the local vo-tech for a person to study. The road to becoming a poker pro is inevitably difficult, circuitous, and filled with setbacks. Deal Me In is a book describing the course by which twenty top poker players became professionals.
Poker Winners Are Different
There is a big difference between what's typical human behavior and what is called for to play poker at a high level. There aren't a lot of people for whom maximizing their expectation in poker games comes naturally. Poker Winners Are Different by Alan Schoonmaker examines this conundrum.

Black Gangsters of Chigago
by Ron Chepesiuk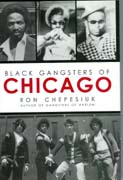 When we think about Chicago-style gangsters, we often think of names like Capone and Gincana. But as powerful and brutal as these guys and their underlings were, an equally fearsome group populated the Windy City. They were the African American mob bosses such as Mushmouth Johnson who was responsible for a long era of underground gambling halls, political bripery and election fraud and the more modern crew such as the Blackstone Rangers and up to the 2003 assassination attempt that left convicted cop killer Willy Lloyd paralyzed. Lloyd ommanded his gang while in jail.
Two books, as diverse as you might expect have hit the bookshelves at Gambler's Book Shop this week. The two, Black Gangsters of Chicago by Ron Chepesiuk (334 pages, hardbound, $22) and The Card (Collectors, Con Men, and the True Story of History's Most Desired Baseball Card) by Michael O'Keeffe and Teri Thompson (245 pages, hardbound, $24.95) have their own audiences.
Black Gangsters is both a history and sociological study. Covering more than two centuries of time, it's most interesting when it focuses on the policy racket--the policy being a form of lottery in which a ticket is bought, numbers chosen and winning numbers announced at a drawing. In the U.S. the game first shows up in 1880s New Orleans, and then moves to Chicago, New York and cities with large Black populations.
For those researching early forms of gambling, the book covers much fascinating territory.
"For some players, policy became a way of life, almost like a religion," the author says. "To increase their chances of winning, players would use 'dream books' that interpreted names and phrases." Even today for the modern lottery such "dream books" exist and are consulted.
This is a book about how fortunes were made, powerful alliances were formed and how it led to the super gangs and drug syndicates of this century.
Indexed, illustrated and well-fortified with reference sources, this book includes discussions about the modern Mafia--who replaced whom in power situations--and offers an understanding of street games and how they operate in the 21st Century.
The Card by O'Keeffe and Thompson concentrates its energy on the 1909 T206 Honus Wagner baseball card. This card had a limited release at the turn of the 20th Century and was identified as a valuable card for the first time in the 1930s. Only a few dozen Wagners are known to exist. Many of these are in poor shape, but one has survived with sharp corners and a crisp portrait of the famed baseball player. Its value has skyrocketed from an original $25,000 to more than $2 million today.
The authors follow The Card from a Florida flea market to the hands of the world's most prominent collectors while exposing counterfeiters and con men and those who have turned what used to be a children's hobby to big business.
A special appendix near book's end also tracks and describes other most valuable baseball cards—30 of them.
This is a wonderful resource for those still interested in buying and selling baseball cards. It includes a history of what went right and wrong in the industry.