More Book Reviews
Best Selling Poker Books of 2014
How did the new books compare to the old classics? Well, we will let the data speak for itself. Take a look at the list of the best selling poker books of 2014.
Deal Me In and Eat Professional Poker Players Alive Reviewed
There isn't a clear path by which people become professional poker players. There aren't any good courses at the local vo-tech for a person to study. The road to becoming a poker pro is inevitably difficult, circuitous, and filled with setbacks. Deal Me In is a book describing the course by which twenty top poker players became professionals.
Poker Winners Are Different
There is a big difference between what's typical human behavior and what is called for to play poker at a high level. There aren't a lot of people for whom maximizing their expectation in poker games comes naturally. Poker Winners Are Different by Alan Schoonmaker examines this conundrum.

Advantage Play For The Casino Executive
by Bill Zender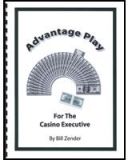 When you hear about famous card counting teams, such as the MIT group, you're getting only part of the story. The weapons in the arsenals of these players are truly amazing-and they're described in detail here. In addition to blackjack strategies, Zender writes about biased roulette wheels, playing with hole-card information in Three Card Poker, and the latest debate on whether dice can be controlled with "rhythm rolling" (he's dubious). For video poker players, there's a big section on combining return percentages, cashback, and promotions to gain an edge (Bob Dancer style).
Bill Zender has written a book that's an A-category must-have for serious gamblers. While written, ostensibly, to enlighten casino executives about what to look out for, Advantage Play for the Casino

Anthony Curtis is the editor of the Las Vegas Advisor and Huntington Press. Curtis began publishing his newsletter in 1983; since 1992, LVA has been a 12-page monthly periodical, which covers all the latest deals, steals, meals, and spiels in Las Vegas. Huntington Press was founded by Curtis in 1986 and has an impressive list of titles. The company is best known for mathematically rigorous gambling books, such as The Frugal Gambler; Million Dollar Video Poker; Comp City; Knock-Out Blackjack; and Gambling Wizards. Anthony's website is www.lasvegasadvisor.com
Executive provides a wealth of information for players, with the added bonus of providing perspective from the casino side. This is a powerful element that Zender brings to the table because he's a true triple threat, with extensive experience as a player, an operator, and an enforcement agent for Nevada Gaming Control. Bottom line: He imparts solid and sophisticated information that you can trust.
Is it too sophisticated? In some areas, yes. For example, the treatment of shuffle tracking is long and dry, and if you aren't into it, you won't take much away. Other blackjack topics include hole card, location play, tells, warps, and a rare discussion of "card sorts," which includes information on the obscure strategy of "playing edges." There are also discussions about using hole card information for Three Card Poker and Caribbean Stud. Again, this is all heady stuff. But there's more that will appeal to a broader audience. Zender writes about biased roulette wheels, recounting the great story of Billy Walters' assault on the Atlantic City wheels. There's another good discussion concerning the debate about whether dice can be controlled with "rhythm rolling" (he's dubious). For video poker players, there's a big section on combining return percentages, cashback, and promotions to gain an edge (Bob Dancer style). The introduction alone, which describes an incredibly creative blackjack play in Atlantic City, will be worth the price of the book for many. So there's probably enough here to make most purchasers happy. Of course, for serious gamblers and members of the casino industry, the coverage, along with the supporting charts and tables (optimal hole-card strategy, correlation/combination betting, etc) is a treasure chest.
There are a couple of negatives. First, the book was not edited well and contains a lot of typos. It's a little distracting, but shouldn't undermine your confidence in the information (and Zender writes well otherwise). And second, the spiral binding is flimsy (our review copy came apart). These are secondary considerations, however, to the overall strength of the work.