The Counter
by Kevin Blackwood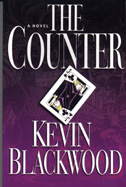 This is an authentic, gambling novel, written by someone who spent years in the trenches. This book offers a rare glimpse into the intriguing life of a professional card counter, certainly one of the world's most unique occupations. The protagonist, Raven Townsend, decides he's too good for Maine and shuns his poor New England upbringing. His grandiose plans of becoming a famous Biblical archaeologist suddenly get shelved when he takes a detour into the world of high stakes blackjack. His exceptional mathematical gifts, phenomenal memory, and incredible determination enable him to succeed where most fail—but at the expense of his girlfriend and original dreams. Raven's quest to win a million dollars in blackjack becomes the driving force in his life. However, a sharp-eyed casino surveillance expert stands in the way of Raven's goal, producing a dramatic, page-turning finish in casinos from Reno to the Caribbean.

Play Blackjack Like the Pros
by Kevin Blackwood

An introduction to the modern game of blackjack, including high and low stakes casino, shoe games (several decks shuffled together), online, and tournaments. Blackwood begins with the basic rules of play and then moves on to teach his proven card-counting method, broken-down into three levels: novice, recreational, and professional. He also covers camouflaging techniques (it's perfectly legal to count cards, but if the house catches you they will kick you out), money management, and team play. He includes many stories of his and other professionals' triumphs at the tables and keeps the highly technical language that bogs down most gaming books to an absolute minimum.

Viktor Nacht's Advantage Player
Viktor Nacht's Advantage Player website is the host to a number of writers and forums covering the topics of blackjack, video poker, roulette, poker and Las Vegas. Don Schlesinger, one of blackjack's most respected writers, hosts Don's Domain along with other 'Masters of Blackjack.' Don Paymar is the resident expert for video poker. There is also a link to an extensive catalog.
Kevin Blackwood's Site
Kevin Blackwood's website offers visitors a synopsis of his novel 'The Counter', sample chapters and reviews of his books, a short biography, and the option of purchasing the books at the site.
The following is part of a series of interviews of notable blackjack figures by Robert V. Lux, produced for the Swedish gaming website, Kasinocentralen. Each piece is of one-half of the total interview,

Robert V. Lux is the author of a number of interviews with well-known poker writers and strategists. He is also a succesful poker player and was in the 2004 Online Poker Nordic Championship. He currently resides in Florence, Italy. with the complete interview reserved for Robert's future book. This interview was done in 2002.
Q For how long have you been playing blackjack?
Q When did you start playing the game and why?
Q At what stakes do you usually bet?
A I started out small and initially bet only $2-10 in single deck games. I was fortunate to win early in my career, and I eventually worked up to a top bet of $1000. I never went any higher than that since most clubs had max bets of $500 or $1000.
Q What do you consider your strongest area in blackjack and why?
A My strength was in handheld games. I played a lot of single and double deck for high stakes in an era when virtually everyone else I met gravitated to shoes. My philosophy was always simple: I wanted to play the very best game available, and I trekked far off the beaten path to find the best return for my bankroll. I did get a lot more scrutiny in single deck, but I only played blackjack for one reason - to make money. And by that criteria I succeeded, having won over a million just in handheld games.
Q What's your greatest and worst blackjack memory?
A I've had some nice wins, but it's the losses that really get etched into your memory. The question I often get asked is "What's the most you've ever won in a day?" But I always respond with nightmarish recollections of my worst days. Like the time a nice winning trip got wiped out in the last shoe before I boarded my jet to go home, with most of the bloodbath taking place in the last hand, where I split four times, doubled down twice, and lost my insurance bet. I lost nearly seven grand on that hand alone and dumped twelve grand in that shoe. Needless to say, it was a long flight home.
Q Bad treatment of skilled blackjack players has been a problem for a long time. Harassments, insulting, personal interferers, etc., regularly occur in the casino environment. Have you ever been a victim of such incidents? If so, what was your impression of this? How did you react? Do you have any general ideas on how to eliminate such behaviors?
Q How much effort did you put in the work of becoming one of the best card counters in the world? In what ways has it helped being an extremely skilled counter? Do you estimate it has affected your win rate by much?
Q Maintaining a good camouflage at the blackjack table is, by far, one of the most important factors in winning blackjack. On your web site, www.kevinblackwood.com, you write that you have been "showed the door" more than 200 times. What are your comments on this? Do you prefer technical aspects more than strategic features?
A I never relished getting kicked out, but I viewed it as an occupational hazard. If you are a winner, it is hard to camouflage that fact. I tried to move around a lot and visit out of the way places, but the top players will always be scrutinized and often will be booted. I saw far too many counters who played double deck and shoes with very small spreads. It's extremely tough to succeed that way, and I'd much rather win and occasionally get barred than to be a marginally profitable player and never get heat.
Q How has the professional life affected you as a person? How does it affect your private and social life (professional "gamblers" are proclaimed to be very lonely)?
A Not really sure if I agree with that assessment. There is certainly monotony in travel and a grind to this business, but most of the players I met were pretty outgoing. Many of them had an extremely active social life. For me, I had a wife and two boys at home to keep me anchored.
Q How much did it take to give up your 9-5 job to become a professional?
Q Do you win as much as your expected win rate? If not, what might be the reasons why you win more/less? As a professional, you have probably encountered heavy losing streaks. How does this affect you psychologically?
A My career is winding down. I've spent a lot of my life making money, and now I'm hoping that something in my writing might be worthwhile to others. Perhaps like me, they will take time to pause and reflect on their own journey in life and consider which road really was the wisest.