Find Single Deck Blackjack Online!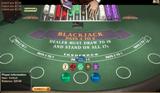 Intercasino has a single-deck blackjack table with very favorable rules, even though the cards are reshuffled after each hand. The difference between it and the regular blackjack game is that the dealer must hit a soft 17. The resulting house edge for this game is a very low 0.07% and is the recommended game to play.

Basic Blackjack
by Stanford Wong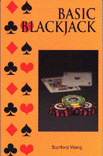 This may well be the most comprehensive discussion of basic strategy today. Included is advice for proper play for almost any rule variation. Also included is material from the out-of-print 'Winning Without Counting' (originally sold for $200) which first focused on the 'warp' factor.
Single-Deck Blackjack Strategy
It wasn't that long ago that blackjack with a single-deck was the only game in town. But when Edward Thorp came along in the 1960s with
card counting techniques
, the casinos had to adjust. In addition to hustling off card counters, casinos introduced multi-deck shoes, automatic card shufflers, and more frequent shuffles. The good news is that you may still find a single-deck blackjack game in some casinos. But be forewarned, the casinos giveth and also taketh away. This is especially true when they pay
6/5 for a blackjack
instead of the 3/2 that has been the standard for many years. To learn more about this game, read ReadyBetGo's single-deck strategy articles.
Single-Deck Blackjack Tips
by ReadyBetGo Editor

There's no denying that blackjack is among the most popular games in every casino. It's so popular that you can play it in different versions, one of which is the single-deck blackjack.
Single-Deck Strategy on a Chart
by Basil Nestor
Here's where we put all of the preceding information about blackjack basic strategy together in the example of playing against a single deck.
The Awful 6:5 Single Deck 21 Game
by Henry Tamburin
Don't say we didn't warn you. There's an awful single deck 21 game that is spreading like wildfire in casinos throughout the US. It has a reduced payoff for a blackjack - 6:5 instead of the standard 3:2 - which results in a house edge that's eight times greater than a standard single deck game.