More Book Reviews
Best Selling Poker Books of 2014
How did the new books compare to the old classics? Well, we will let the data speak for itself. Take a look at the list of the best selling poker books of 2014.
Deal Me In and Eat Professional Poker Players Alive Reviewed
There isn't a clear path by which people become professional poker players. There aren't any good courses at the local vo-tech for a person to study. The road to becoming a poker pro is inevitably difficult, circuitous, and filled with setbacks. Deal Me In is a book describing the course by which twenty top poker players became professionals.
Poker Winners Are Different
There is a big difference between what's typical human behavior and what is called for to play poker at a high level. There aren't a lot of people for whom maximizing their expectation in poker games comes naturally. Poker Winners Are Different by Alan Schoonmaker examines this conundrum.

Basic Blackjack
by Stanford Wong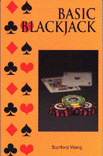 This may well be the most comprehensive discussion of basic strategy today. Included is advice for proper play for almost any rule variation. Also included is material from the out-of-print 'Winning Without Counting' (originally sold for $200) which first focused on the 'warp' factor.
Every once in a while a blackjack player will come across a game with odd rules where one doesn't immediately know the correct basic strategy. For example, one might be playing the liberal rules

Nick Christenson is widely regarded as one of the best gambling book reviewers publishing today. He is a contributor for Poker Player magazine, and has published in Full-Tilt and Gambling Times. He is also the editor of the very funny 'Casino Death Watch,' which chronicles the comings and goings of casinos in Las Vegas. He is an avid poker and blackjack player. Nick's website is www.jetcafe.org/~npc/ game at the Las Vegas Club on Fremont St. that allows the player to double on any three or four cards and provides a six card automatic winner. Just last year I played in a game that allowed early surrender against a dealer ten. And, just how much are those games with bonuses for 6-7-8 of the same suit worth, anyway? When it comes to basic strategy variations, there's no book like Basic Blackjack by Stanford Wong.
Basic Blackjack is divided up logically enough, starting with an introduction, an explanation and chart of general basic strategy, and an explanation of common rule variations, such as the number of decks or whether the dealer hits soft seventeen. This material is present in all of Wong's blackjack books, but, by definition, it has to appear here.
Wong then describes some more common, and not so common, rules variations and how they both change the player's optimum strategy and expectation. Some of these scenarios, like the "No Natural Winner for Dealer" are not that uncommon. As of this writing, the Sundowner in Reno uses this rule. (By the way, do you know the one strategy variation if this is the case?) Some scenarios, such as "split any sixteen" one will probably never see. But if so, Basic Blackjack is the place to find out how that game should be played.
The last three chapters, Tells, Warps, and Other Tricks are amalgamated here from Wong's now out of print book, Winning Without Counting. Some people have felt that some of the strategies in that book, and to a lesser extent these chapters in Basic Blackjack, suggest behavior that crosses the line between advantage play and cheating. I won't enter into that debate here except to say that this is worthwhile material to have in print, serious blackjack players should be aware of it, and nobody should assume that just because Wong has put it in print that they should attempt all of these advantage methods. Wong is aware of the moral ambiguity of some of these methods and states this explicitly.
Basically, this is one of those books that I cannot imagine a serious blackjack player not having in their library. This is the only source of much of this information in print, and to have it all in one place is simply invaluable. The serious blackjack player will read it once and continue to refer to it many times over the years. If one is going to a location with a blackjack game that has unknown rules, this book should be one's traveling companion. Moreover, it's available at a very reasonable price compared to most of what passes for gambling literature these days. Buy this book.