Blackjack: A Winners Handbook
by Jerry Patterson

Blackjack is one of the simplest--and most challenging--games for today's gambler. In this completely revised and updated edition of the classic guide, Jerry L. Patterson, author and gambling expert, shares winning strategies that can help you beat the odds--whether you're a beginner or seasoned pro.
Packed with new information and tried-and-true strategies, this book gives you everything you need to know to find the winning edge--from card counting to playing at Internet casinos.

Blackbelt in Blackjack, Revised
by Arnold Snyder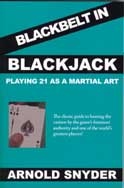 Arnold Snyder is one of blackjack's legends. This book, now back in print and revised,has become underground gambling classic. This is blackjack as a martial art, targeted for serious and professional players looking to win real money at the game. Snyder reveals tips and tricks used by the pros-shuffle tracking, team play, multiple deck camouflage techniques so that the casino can't detect that the player is using winning techniques, and much more. 21 powerful chapters include a complete course on beating blackjack: the devastating red 7 count, the hi-lo count, the zen count, the true count, and so much more.