Play to Win: A World Champion's Guide to Winning Blackjack Tournaments
by Ken Einiger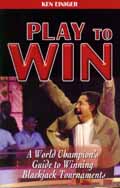 Brooklyn-born Einiger is a tournament champion, having won the 2005 World Series of Blackjack on national television. Einiger takes you through the basic concepts can make you competitive in blackjack tournaments providing everything you need to become a winner. Includes 15-page listing of casinos in the U.S. with phone numbers.

Beat the Dealer: A Winning Strategy for the Game of Twenty-One
by Edward Thorp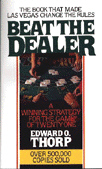 This great classic has sold half-million copies since the 1960s when it was originally published. Thorp is considered the 'Father of Modern Blackjack Play.' His theories helped develop a count system that revolutionized the way players and casinos look at the game. An absolute 5-star must for anyone who intends to play blackjack.