Burning the Tables in Las Vegas
by Ian Andersen

This is the long-awaited sequel to the author's best selling (out of print) classic, Turning the Tables on Las Vegas. With a quarter century's worth of experiences in high-stakes gambling, Andersen here forges a blueprint for success in blackjack, poker and other games of life. He addresses virtually every aspect of blackjack advantage play: game selection, longevity, tipping, employee relations, guises, disguises, false identification, credit, comps, risk, heat, dress, demeanor and even diet. Peppered with anecdotes and stories, the book takes you on a vicarious journey into the rarefied realm of the blackjack pro and shows you what it takes to be one.

Golden Touch Blackjack Revolution!
by Frank Scoblete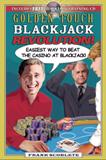 the revolutionary and incredibly simple, yet powerful, Speed Count and the matching Optimum Basic Strategy (OBS). In minutes you can learn Speed Count and be able to play blackjack with an edge over the house. This new book includes a FREE CD so you can practice the Speed Count and OBS at home.