Smarter Bet Guide to Blackjack
by Basil Nestor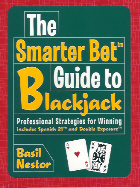 Strategy is the key to success at the blackjack table; that's a mathematical fact, and you can count on these expert, easy-to-learn tactics to make you a victor. Here's the deal: everything begins with the basic rules, and they're laid out on these pages with smart little "factoid" tips. Go through blackjack economics, which explain why cards fall the way they do, and what makes a good (and a sucker) bet. Easy-to-follow tables suggest strategies for splitting pairs and soft hands and provide dozens of other statistics and card probabilities.
Find Single Deck Blackjack Online!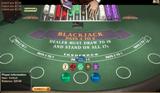 Intercasino has a single-deck blackjack table with very favorable rules, even though the cards are reshuffled after each hand. The difference between it and the regular blackjack game is that the dealer must hit a soft 17. The resulting house edge for this game is a very low 0.07% and is the recommended game to play.

Golden Touch Blackjack
In Henry Tamburin and Frank Scoblete's two-day class, you will learn a method of advantage-play that is simple, extremely easy-to-apply, yet powerful enough to get a real, verifiable edge over the casinos at blackjack! The course comes with a new Basic Blackjack Strategy that enhances your edge with our method! Plus, entrance and exit strategies, money management, bankroll development and bet-sizing techniques to make you an Advantage-Player over the house.
Q I use basic strategy when playing blackjack, and I still lose. All the experts (including you) say that blackjack played with basic strategy lowers the casino's edge to less than 1%. My losing sessions

Basil Nestor is the author of the new Playboy Complete Guide to Casino Gambling. This wonderful book teaches players how to avoid sucker bets and win more when playing gambling games. He is also the author of The Smarter Bet Guide series for video poker, slots, craps, and many other books about gambling. Basil's website is www.smarterbet.com
cost a lot more than 1%. What's going on?
A First, let's bust a popular myth. The casino's slender 1% (or less) edge does not mean that you win about half the time, and the casino wins the other half. The actual win/lose ratio is about 43% player, 48% casino and 9% of the hands push. That's right. Usually, you win only four hands out of ten, even when you use
basic strategy
.
Doubling down
,
splitting
, and 3:2 payoffs on naturals provide the extra boost to increase your net win and give you near parity with the casino.
That is why you should always double down or split as per basic strategy. Some players hit rather than double down because they're trying to "save money." Ironically, doing this actually costs money. A doubling situation always involves a hand in which the player has a clear advantage. A player must earn money in those situations or the casino's edge will be magnified.
Another example of this effect is insurance on a natural. A player has an edge without
blackjack insurance
, and will likely win a payment at 3:2. Taking insurance lowers the win to 1:1. Not good.
So anyway... Let's say you play for an hour (about 60 hands), and during that time you don't see a natural-21. A two-card 21 "snapper" usually occurs about once every 21 hands. But hey, maybe the gambling gods are in a bad mood during this particular hour. You double down seven times, lose four of those doubles, and you push nine other hands. No splits. Guess what. That's bad luck, and it probably will cost much more than 1%.
During the next hour you win four of six doubling hands and see three naturals. That isn't an amazing stroke of good fortune. Rather, it is what you should expect during a typical run of 60 hands. You'll either break even or come out slightly ahead depending on the results of the other 51 hands.
Finally, during the third hour you get five naturals and you win seven out of seven doubling hands. That is good luck, and you will win some money unless you have extremely bad luck on the other 48 hands.
Streaks like this are common, and sometimes they last much longer than an hour. The resulting
bankroll
swings go way beyond 1%.
The lessons here are:
1. Follow basic strategy. Double down and split when you should. Earn those extra profits. And don't take insurance.
2. Watch the texture of the game. Winning is more fun (and losing is less frustrating) when you recognize the situations that cause profit or loss. A few oddball hands often make a big difference.
3. Don't blame yourself when the cards turn sour. DO blame yourself if you're contributing to the bad run by going "on tilt" and not following basic strategy. Stop playing when that happens. Leave the table and go get a cup of coffee or a soft drink. Take a walk. Relax. Remember, it's a game. Sometimes you will win, and sometimes you will lose! The trick is to follow basic strategy; so if losing is your destiny over the next hour, day, or whatever, then you will lose less. Every dollar you save contributes to your net win over the long term.