PONTIAC – As reported by the Detroit News and the Associated Press: "A businessman with ties to the gaming industry intends to put a measure before voters in 2008 to allow slot machines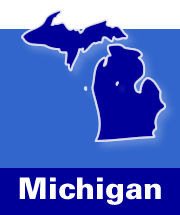 at Michigan's six horse racing tracks.
"The initiative would support a plan by Oakland County Executive L. Brooks Patterson who earlier this week outlined five possible ways to fund an expansion of Cobo Center in his annual State of the County address. The proposal calls for converting the state's six horse-racing tracks into 'racinos,' tracks with slots machines.
"…'I think the communities where the tracks are located would embrace it and it would generate $1.7 billion, which would go a long way in solving the state's fiscal problems,' Patterson said. 'We're talking about expanding existing gaming. We're not talking about putting slot machines in the drugstore around the corner.'
"A constitutional amendment approved in 2004 to limit the expansion of gambling requires any new gaming to have state and local voter approval.
"That measure was heavily backed by casinos but John Carlo, general manager of Northville Downs racetrack, thinks voters would be open to allowing racinos now if the proposal was fair.
"'The state of Michigan is very logical,' he said. 'They see the way industry is going, the way jobs have gone. The package has to make sense to the state and if the state believes it they'll say yes.'"