DETROIT -- MGM Grand Detroit announced Wednesday it has opened a website where individuals can apply for jobs at its new hotel and entertainment destination that will open in Detroit in the fourth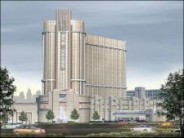 MGM Grand Detroit rendering. The property is expected to open late this year.
quarter of 2007.
To secure employment for more than 1,000 new employees MGM Grand Detroit will hire in advance of the grand opening later this year, an online job application site has been created,
www.mgm1job.com
. Individuals will be able to search jobs, submit their application, and schedule a job interview through the online process.
Billboards advertising the employment opportunities and the online address are going up in the Detroit area today as part of the company's recruitment effort to find the best possible employees, said Vice President of Human Resources Debbie Thomas.
"We're looking for people who are enthusiastic, committed to excellence and who take pride in their work," she said. "They should be flexible to work days, evenings, weekends and holidays and be seeking a gratifying career. The number one requirement is a great personality and a desire to provide excellent customer service."
Thomas said MGM Grand Detroit will be hiring people for both salaried and hourly positions in a variety of job classifications including administration, environmental services, finance, food and beverage, hotel operations, human resources, marketing, security, table games, valet and wardrobe.
She said MGM Grand Detroit will open a new staffing center in late March in downtown Detroit where job interviews and job training will take place.
MGM MIRAGE
3600 Las Vegas Boulevard South
Las Vegas, NV 89109
Phone: (702) 693-7120
Fax: (702) 693-8626
Website: www.mgm-mirage.com

MGM MIRAGE is one of the world's leading gaming companies. It owns and operates 24 properties located in Nevada, Mississippi and Michigan, and has investments in four other properties in Nevada, New Jersey, Illinois and the United Kingdom. MGM MIRAGE has also announced plans to develop Project CityCenter, a multi-billion dollar mixed-use urban development project in the heart of Las Vegas, and has a 50 percent interest in MGM Grand Macau.