Stretch Your Bankroll Online!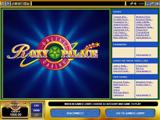 Roxy Palace can really help you stretch your casino bankroll. The casino has games with more favorable odds than you would find at most casinos in the United States. Add to that the generous bonus that you receive just for signing up, and you are getting a lot of extra playing time for your gambling dollar.
DETROIT -- MotorCity Casino (MCC) announced today an exciting new expansion design, which reflects the historic romance between the City of Detroit and the automobile while creating a state-of-the-art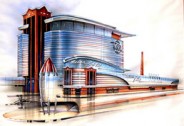 Artist's rendering of the future MotorCity Casino. entertainment, conference and resort venue. The expanded complex is expected to be completed in late 2007.
"This new, modern design creates an architectural structure that mirrors many of the characteristics of automotive styling that have become very much a part of our local, national and global automotive prominence," said Gregg Solomon, chief executive officer, MCC. "The design is the manifestation of a collaborative effort that honors that which is historically endearing about the City as well as celebrating how Detroit continues to evolve."
MCC has assembled a unique team of professionals from varying backgrounds to design and construct the casino and hotel expansion project. Members of the team include:
General contractor Michigan Industrial Group, a Detroit based and headquartered company. The contract, when complete will exceed $190 million, and will be one of the largest construction contracts ever awarded to a solely owned African-American company in the United States.
NORR/Giffels L.L.C. will provide full architectural and engineering services, and is responsible for addressing the unique design and construction challenges of the project.
Interior design by Genesis Designs.
Chip Foose, renowned designer of some of the most famous vehicles of the last decade, and the star of the popular series "Overhaulin'," is lending a unique automotive artistic perspective to the project.
In addition to the "must see" exterior, plans include a complete interior remodeling of the current buildings, construction of a 17-story, 400-room hotel tower that includes a spa, retail outlets, new dining options and additional parking. Gaming space will be expanded to 100,000 square feet and the casino's current food service building will be remodeled and expanded to include additional food outlets, banquet and convention space and a 1,200-seat theater.
MotorCity Casino
2901 Grand River Avenue
Detroit, MI 48201
Toll Free Phone: (877) 777-0711
Website: www.motorcitycasino.com

MotorCity Casino opened in December 1999 and is owned and operated by Detroit Entertainment, L.L.C. MCC broke ground for a permanent casino at its current downtown Detroit site in November 2005. MCC's temporary facility offers two main floors of gaming, a third floor non-smoking gaming area, a high-limit area on the fourth floor and Detroit's only AAA Four Diamond Award restaurant, Iridescence.