Hoosier Park could open soon
ANDERSON, Indiana -- As reported by the Indianapolis Star: "Hoosier Park could open the doors of its new casino on Monday after a mandatory test run this week, while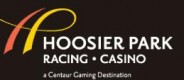 Hoosier Park Indiana Downs in Shelbyville hopes to open its casino later in June.
"Legislators passed a law last year that allows up to 2,000 slot machines at the two horse racing tracks, which had to pay an initial licensing fee of $250 million to the state for the slots.
"Indiana Gaming Commission officials visited Hoosier Park today for its test run, to make sure the 93,000-square-foot casino meets state gaming, accounting and security standards.
"...Indiana Downs, meanwhile, hopes to open a 70,000-square-foot temporary casino by the end of June..."
Mohegan Sun at Pocono Downs approved for July opening
HARRISBURG, Pennsylvania -- As reported by the Citizens Voice: "State gambling regulators Thursday launched a countdown to prepare the permanent casino at Mohegan Sun at Pocono Downs for a public opening in July.
"The Gaming Control Board plans to give the same oversight to the launch of Mohegan Sun's permanent casino in Plains Township as it has the seven casinos currently operating, including Mohegan Sun's temporary casino which opened in fall 2006.
"The board approved two key resolutions to start the process: approval of the 68,000-square-foot casino floor plan which can accommodate up to 2,481 slot machines and the designation of three board members — Jeffrey Coy, James Ginty and Gary Sojka — to oversee the installation of slot machines.
"...Because the permanent casino is located in a brand new building, the board will monitor the installation of slot machines and transfer of machines from the temporary facility, said board spokesman Richard McGarvey..."
Washington tribal casino moves forward
WASHINGTON -- As reported by the Columbian: "A final study on the Cowlitz casino will be ready for public review Friday, kicking off a 30-day waiting period before a final federal decision.
"Federal officials will not announce their decision before July 1, but the impending release of the final environmental impact statement means the finish line is in sight.'
"'I think this is an important step forward in the federal process," said Phil Harju, a member of the Cowlitz Tribal Council and its designated casino spokesman. 'The federal government (is) close to taking the land into trust for the Cowlitz reservation.'
"That step is necessary for a development partnership to build a $510 million casino complex along Interstate 5 two miles west of La Center.
"If the federal government takes the 152-acre site into trust, the long casino fight will enter a new litigious phase..."
Mohegan Sun at Pocono Downs
1280 Highway 315
Wilkes-Barre, PA 18702
Phone: (570) 831-2100
Fax: (570) 823-9407
Website: www.poconodowns.com

Phase One of the Mohegan Sun at Pocono Downs features two floors housing almost 1,100 slot machines, a food court, bar and patio. An additional third floor will be used for office space.
Hoosier Park Racing & Casino
4500 Dan Patch Circle
Anderson, IN 46013
Hoosier Park features 2,000 slots and electronic table games in denominations ranging from a penny to $100. The single-level casino features a well-planned layout, allowing easy movement throughout multiple gaming areas. A High Limit area offers high stakes slots, video poker and new multi-player electronic blackjack, 3-card poker and roulette. Hoosier Park casino also has a state-of-the-art air filtration system and a non-smoking slot area.