PENNSYLVANIA -- As reported by the Pennsylvania Times Leader: "A year into its first gambling venture outside of its Connecticut reservation, the Mohegan Tribal Gaming Authority has plenty to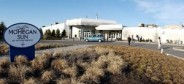 The Mohegan Sun at Pocono Downs will soon have electronic blackjack tables. be happy about. About 6,000 gamblers a day have been streaming into the Mohegan Sun at Pocono Downs and they've wagered nearly $2 billion since an interim casino opened on Nov. 14, 2006.
"While reluctant to admit it in the early going, Downs CEO Bobby Soper now acknowledges that the action has been stronger than he bargained for.
"...Those numbers include a 'win' of $178 million. That's the amount kept by the casino after paying out nearly 91 percent of wagers in jackpots. That profit is highly taxed – nearly $98 million worth – but the casino also makes money on its food and beverage sales, which are taxed at the same rate as in any other business.
"But the always careful Soper isn't yet ready to declare victory over still untested market forces..."Po
Mohegan Sun at Pocono Downs
1280 Highway 315
Wilkes-Barre, PA 18702
Phone: (570) 831-2100
Fax: (570) 823-9407
Website: www.poconodowns.com

Phase One of the Mohegan Sun at Pocono Downs features two floors housing almost 1,100 slot machines, a food court, bar and patio. An additional third floor will be used for office space.