PLAINS, Pennsylvania - The Mohegan Sun at Pocono Downs today announced the names of an attractive and diverse series of dining and retail shopping operations that will play a pivotal role in the creation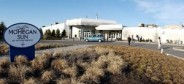 The Mohegan Sun at Pocono Downs will soon have electronic blackjack tables.
of the leading gaming and entertainment experience in the Commonwealth of Pennsylvania.
Construction continues to progress on Project Sunrise, the $208 million permanent casino project designed to deliver an exceptional gaming and entertainment experience to residents of Northeast Pennsylvania and tourists traveling through the region. The approximately 300,000 square foot complex is slated for grand opening this summer.
An array of dining options designed to satisfy every appetite is headlined by Ruth's Chris Steak House. The restaurant that showed the world just how great a steak can be, Ruth's Chris is known worldwide for searing the finest cuts of USDA Prime beef at 1800 degrees, generating a seductive sizzle that's often heard moments before the arrival of the plate. While regarded by many as the best steakhouse in the country, Ruth's Chris is also known for expertly executed seafood, New Orleans-inspired appetizers, unforgettable desserts and an award winning wine list. This is a steakhouse to which others aspire and this arrival has been the buzz of the region in recent weeks.
Ruth's Chris Steak House will be owned and operated by local award-winning restaurateur John C. Metz and family. The Metz family operates several other food establishments and local hotels in the area.
While every restaurant seeks to be unique, the 260 seat Tuscan Villa themed Rustic Kitchen Bistro & Bar actually earns the distinction. This new Bistro & Bar with an Italian Mediterranean influenced menu will feature a Bar/Cafe, Main Dining room, and Wine Cellar for private events. The authentic interior displays handcrafted relics & artifacts representing a Tuscan Villa and allows guests the option of an intimate dining experience in one of the main dining room's private booths, or a quick pizza from its wood burning oven in the Bar/Cafe. Rustic Kitchen has received numerous honors, including recognition as Boston Magazines "Best of Boston" and designation of the "Award of Excellence" by Wine Spectator the last 3 years.
It's most innovative component is a state of the art, broadcast ready, television studio kitchen with live cooking shows that is the focal point inside of the restaurant.
Daily cooking shows called "In the Kitchen" will occur for patrons to dine and learn in a highly entertaining yet intimate atmosphere. Mountain Top, PA native and cooking show celebrity chef, Kate Gabriele will be the Headline Host. "In the Kitchen" will also host events that spotlight local restaurants, area chefs, industry suppliers, & farmers.
Bar Louie, a casually cool neighborhood restaurant and bar wildly popular for its signature sandwiches, wine bar and handcrafted martinis, also features a large selection of uniquely prepared appetizers, deluxe burgers and hearty entrees at prices that won't break the bank. Bar Louie has brought its dynamic environment to various major cities throughout the country including Chicago, Denver, Milwaukee, Tampa and Washington D.C. Warm surroundings with an urban feel is further brought to life with live entertainment at least three nights a week, dancing, nightlife photography, signature hand-laid tile artwork, hardwood floors, and exposed brick walls. Service is speedy with a smile. Open for lunch, dinner, late night dining or after a winning gaming experience.
Mohegan Sun at Pocono Downs pays tribute to the cultural heritage of the Mohegan Tribe in the 300 seat Timbers Buffet. Tribal history and culture will be on display via the unique design and finishes, as will delicious food from diverse styles in a nearly endless series of stations. Timbers Buffet is the place to satisfy the hungriest of guests for lunch and dinner and this restaurant is also the perfect address for your next business meeting, private party or special event as two private rooms with seating for more than 50 people each are available for rent.
Pearl is Mohegan Sun at Pocono Downs sushi bar creation. A hip, intimate setting with mesmerizing fresh sushi, Pearl will provide an atmosphere that could only be expected in the finest and most contemporary settings in New York City or Los Angeles.
Guests seeking immediate food options have upscale alternatives just steps away from the casino floor in the Sky Food Court. There will be many high-end quick serve options offered by the best nationally recognized chains including among many other items, burgers, soups, salads, sandwiches, gourmet hot dogs, as well as the finest coffees and super-premium Ben & Jerry's ice cream.
Highlighting the food court will be Johnny Rockets, which is the epitome of fun. Johnny Rockets is an international retro diner-style restaurant chain that provides the food and friendliness reminiscent of feel-good Americana. Johnny Rockets serves more than 13 million hamburgers to its guests annually. The Johnny Rockets restaurant will be owned and operated by Ed Hughes, Michael Hughes and Lloyd Sugarman. The Hughes brothers have owned and operated Johnny Rockets restaurants in Northeastern Pennsylvania since 2003.
For more than 30 years, Marshall Rousso has ensured that women, who want to look dazzling, are beautifully dressed. From glamorous evening wear to hip casual clothing, Marshall Rousso offers remarkable styles to women who appreciate being noticed. Marshall Rousso offers a wide assortment of stylish accessories, including an extensive collection of handbags, and an impressive selection of footwear from designers such as Cole Haan, Beverly Feldman, Mia, Betsey Johnson, and Kathy Van Zeeland. Along with the extensive merchandise selection, the first class finishes coupled with a friendly customer service makes shopping at Marshall Rousso a true pleasure.
Misura, a men's fine apparel boutique, specializes in exceptional tailoring for men with impeccable taste. Misura offers a remarkable selection of clothing, shoes and accessories from some of the most desired designers in men's fashion, including Ralph Lauren, Tommy Bahama, Calvin Klein, LaCoste, Cole Haan, and many more.
Both Marshall Rousso and Misura are well-known names in Las Vegas and Atlantic City where their clothing and accessories are showcased in such establishments as the MGM Grand, Venetian Resort Hotel Casino, Harrah's Las Vegas, the Borgata and The Pier Shops at Caesar.
Crossing Vineyards and Winery, located on a two-hundred year old Bucks County estate, less than a mile from the place where George Washington crossed the Delaware in 1776, has won numerous medals and accolades from the wine industry. Crossing Vineyards will showcase its wine at Mohegan Sun at Pocono Downs in the Crossing Vineyards Wine and Cheese Shop. Crossing Vineyards crafts four distinct tiers of wine produced from the finest Pennsylvania grapes processed within hours of harvesting to ensure quality. The Vineyard provides its wine to eating establishments with some of the most discriminating tastes, such as the Ritz Carlton Grill Room. To complement Crossing Vineyards premium wines, West Pittston's igourmet will offer imported specialty gourmet food products along with their complete line of exquisite gift baskets in the store. Forbes named igourmet.com the best gourmet food website from 2003 to 2007.
In addition to these fine establishments, Project Sunrise will provide a variety of other retail options including a fine jewelry boutique, a popular well-known electronic store and Mohegan Sun at Pocono Down's logo store.
Mohegan Sun at Pocono Downs
1280 Highway 315
Wilkes-Barre, PA 18702
Phone: (570) 831-2100
Fax: (570) 823-9407
Website: www.poconodowns.com

Phase One of the Mohegan Sun at Pocono Downs features two floors housing almost 1,100 slot machines, a food court, bar and patio. An additional third floor will be used for office space.