VANCOUVER, British Columbia -- As reported by the Vancouver Sun: "A gleaming new casino festooned with big-screen TVs, a show lounge and 600 slot machines opened at 9 a.m. Friday at Hastings Racecourse.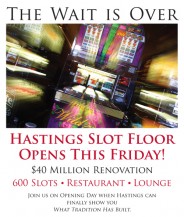 Slot Machines, Hastings Park Casino
"The most controversial component of a $40-million facelift for the 116-year-old track at Hastings Park, the 42,000-square-foot casino replaces the stark benches and concrete of the old lower grandstand with a bright glossy gambling house, a bar with live entertainment and restaurant service.
"A temporary casino with 150 slot machines that opened last November at the track will close when the new casino opens its doors to the public.
"...The temporary facility has done strong business since the day it opened, according to Great Canadian Gaming representative Howard Blank.
"...For owner Great Canadian, the opening will be the end of a years-long odyssey of negotiations with the city, vocal community opposition and lengthy renovations.
"...The new casino is projected to gross $21 million between Aug. 15, 2008, and March 31, 2009, according to the B.C. Lottery Corp. The existing 150 slot machines have grossed $2.4 million since April 1.
"The city also has a community benefits agreement with Great Canadian that includes payments of $100,000 a year to a city-run legacy fund, $500,000 a year for restoration work on Hastings Park and a local hiring program for the city's northeast neighbourhoods..."
Hastings Park Racecourse and Casino
PNE Gate 6
Vancouver, BC V5K 3N8
Canada
Phone: 604.254.1631
Website: www.hastingspark.com