Online Multi-Hand Video Poker!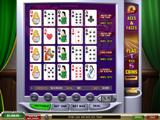 Casino Tropez has multi-hand video poker and it comes in a number of flavors. You can play 4 or 25 hands Aces & Faces, 4 hand Jacks or Better and Deuces Wild or the 10 hand Jacks or Better progressive. The best deal for multi-hand play is the 4 hand Aces & Faces which has a great 99.3% return. If multi-hand video poker is your thing, try you hand today!

Video Poker Player
Video Poker Player is a newsletter devoted to the video poker enthusiast. Edited by Skip Hughes, the newsletter features the latest information on video poker all over the United States. Current conditions, casino reviews, strategy articles, trip reports and much more can be found in each edition. For some of the best writing on video poker, read Video Poker Player.

Liberty Belle Bookstore
Charlie Fey was the father of the slot machine and the draw poker machine. You can take a tour of his creation or buy the book that chronicles the development of slots at the Liberty Belle Bookstore.
Video Poker Rules and History

If you look back 100 years, you'll find that the basic rules of video poker were already set in place on the mechanical machines that were popular in saloons. Video poker of today is an electronic version of those old machines. There have been many technological innovations, but as they say, the game remains the same. If you're not sure of the hand rankings, you are in the right place. You can also check out the history of video poker right here at ReadyBetGo!
Video Poker - The Electronic Age
Video poker became one of the most popular gaming machines in the world when the technology of video and microprocessors combined with the poker machines invented in the 19th century. This fascinating story continues in part two of our history of video poker.
Basic Video Poker Rules
ReadyBetGo's basic video poker rules cover the deal, draw, winning hands and pay tables of this popular game.
Video Poker, The Origins of the Game
When we think of video poker machines, we believe them to be modern games not possible without the technology of computers and television. While it's true that 'video' poker couldn't be possible without video, the basics of the game can trace their origin to poker machines that were manufactured and flourished at the end of the 19th century.