Winner's Guide Volume 1: 2nd Edition - Jacks or Better
by Bob Dancer

Bob Dancer and Liam W. Daily have just released the second edition of Winner's Guide Volume 1 -- Jacks or Better. This new edition has been expanded to 128 pages and features the following enhancements: 1) A complete discussion of the differences between Jacks or Better and other popular games, including Double Bonus, Double Double Bonus and Deuces Wild. 2) Enhanced (more user-friendly) notations --- done in conjunction with the latest Dancer/Daily Strategy Cards. 3) An updated strategy for Level 4 Flush-5
With these improvements, Winner's Guide Volume 1 presents the most comprehensive discussion of Jacks or Better ever published.

Video Poker for the Intelligent Beginner
by Bob Dancer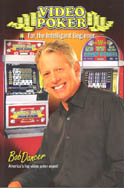 Focuses on important steps to winning such as how to choose the right machine and the correct way to evaluate slot clubs and promotions. The book breaks down into three categories: No Wild Cards; Deuces Wild variations and Joker Wild variations with almost three dozen games under scrutiny starting with Jacks or Better and Bonus Poker and moving on to Double Bonus, Triple Bonus Poker Plus, Double Double Bonus, Royal Aces Bonus, Double Deuces, Loose Deuces, Deuces Bonus and numerous Joker Wild variations. 237 pages, paperbound. 2009.