More Book Reviews
Best Selling Poker Books of 2014
How did the new books compare to the old classics? Well, we will let the data speak for itself. Take a look at the list of the best selling poker books of 2014.
Deal Me In and Eat Professional Poker Players Alive Reviewed
There isn't a clear path by which people become professional poker players. There aren't any good courses at the local vo-tech for a person to study. The road to becoming a poker pro is inevitably difficult, circuitous, and filled with setbacks. Deal Me In is a book describing the course by which twenty top poker players became professionals.
Poker Winners Are Different
There is a big difference between what's typical human behavior and what is called for to play poker at a high level. There aren't a lot of people for whom maximizing their expectation in poker games comes naturally. Poker Winners Are Different by Alan Schoonmaker examines this conundrum.

The 2013 American Casino Guide
by Steve Bourie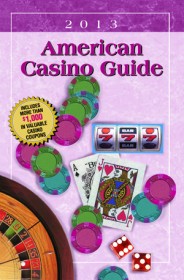 The American Casino Guide has been published annually since 1992 and is the most comprehensive book available for information on all U.S. casinos including all casino/resorts, riverboats and Indian casinos.

The new 2013 edition includes detailed information on more than 700 casinos in 40 states, plus it includes 203 coupons valued at more than $1,000! The coupons can be used now in 2012 and are valid until late December 2013.
Read a review of The 2013 American Casino Guide

Frugal Video Poker
by Jean Scott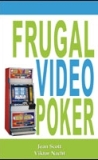 Jean Scott, the undisputed Queen of Comps, is now the Queen of Video Poker with the release of her latest Frugal gambling book, Frugal Video Poker. The book will help beginners and experts alike with its common sense approach backed up with rigorous statistics. For a great video poker read, pick up a copy of Frugal Video Poker.
Read a review of Frugal Video Poker
There are no sure things in gambling. If there were, we wouldn't call it gambling, right? But there are some resources, books, for example, which clearly will save you money if you're

Howard Schwartz, the "librarian for gamblers," is the marketing director for Gambler's Book Club in Las Vegas, a position he has held since 1979. Author of hundreds of articles on gambling, his weekly book reviews appear in numerous publications throughout the gaming industry. Howard's website is www.gamblersbook.com frugal or cautious or intent in stretching your recreational dollar. Here are four such books.
More Frugal Gambling by Jean Scott (406 pages, paperbound, $14.95). Perfect for the novice or player who has never realized what comps are and the value of joining a player's club if you offer casinos consistent, "loyal" action. Scott, who wrote the popular Frugal Gambler in 1998, here follows with ideas about playing slots and video poker, about joining slot clubs and taking advantage of casino promotions and overall how to find your way through the maze of comps offered.
The 2007 American Casino Guide by Steve Bourie (495 pages, paperbound, $16.95). Ideal for the person who travels in an RV or by car or has the urge to explore other areas of the country to play on Indian reservations, riverboats or land-based casinos. Bourie tells you where these places are located and fills you in concerning addresses, phone numbers, food and rooms and who to contact at no charge for further information. With more than 100 pages of coupons, this book will save you money on everything from car rentals to match play table action to shows, souvenirs, gasoline. The book also contains easy-to-use maps and plenty of smart advice on how to play the casino games. It fits in your luggage or glove compartment, making it quite portable – and it's a great gift item.
The Art of the Steal by Frank Abagnale (225 pages, paperbound, $14). Yes, it's by the same ex-conman who wrote Catch Me If You Can (made into the movie with Leo DeCaprio). Now a consultant to save people from getting swindled, Abagnale explains how to protect yourself from identity theft, credit card fraud, Internet cons, counterfeiters, ATM fraud, short change artists and phony mail order business "opportunists." He even offers web sites and phone numbers for government agencies where you can get help.
How to Become a Casino Cocktail Waitress by Sally Fowler (107 pages, paperbound, $19.95). This is one of the all-time sought after books by gentlemen with a wife, girlfriend, friend or relative with good legs and a willing smile who want to earn big tokes in the casino industry and by the young energetic woman who wants to make good money. Originally published 24 years ago and revised twice since then, it explains the good and bad side of serving a variety of drinks in a variety of situations to a diverse public. The author, who's been there, done that and survived it all, covers how to seek and apply for a job, what to expect your first day and how to work the pit area, including the dice and 21 pit, the poker room, slot and dining area, the lounges, pool, bingo areas as well. She includes a variety of serving hints such as how the handle the all-important tray, what physical ailments you might expect after a hard day or week, the importance of makeup and proper foot care and the all-important subject of the union.
Fowler explains the role of floor persons, the timekeeper and beginning on page 56, the variety of drinks which may be ordered, including liquor, mix and glass "sequences."
The book also contains suggestions on quick methods of ordering drinking from the bartender; suggested drink abbreviations; common titles and slang for drinks and other casino terminology. Bottom line: The perfect survival guide for casino owners, food and beverage managers, bartender-waitress schools and anyone who intends to work in the gaming business.