Frugal Video Poker Scouting Guide
by Jean Scott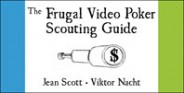 The Frugal Video Poker Scouting Guide is a handy reference tool designed to make finding profitable video poker games in any casino easy for everyone from the beginner to the expert video poker player. It contains nearly 200 pay schedules for 37 of the most popular video poker games and details the return for each schedule, approximate royal progressive break-even points, a measure of the game's volatility, and much more. Just 3.5 inches tall and 7 inches long, it is made of durable paper and is spiral bound so that it can be opened to any page and folded over while scouting for a particular game. Easy to use and easy to carry, there is nothing like this available on the market, but anyone who plays video poker for fun or profit should have one.

More Sex, Lies and Video Poker
by Bob Dancer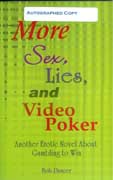 Second in the series of Dancer's video poker fiction, this is an intricately plotted erotic novel filled with the shrewd thinking and elaborate schemes of winning gamblers. It's a fast-moving and insightful book about winning at video poker. It's also about Vegas, baby! Chris is in love with Annie, but Maria wants Chris for an occasional sex-with-no-strings fling. Maria is the mistress of high roller Jimmy, who had a recent affair with Meg, Chris's sister-in-law. Meg's husband Richard, meanwhile, is pursuing Maria, whom Jimmy wants to trade with him for another crack at Meg. The whole ménage is lubricated with alcohol, abetted by guns and martial arts, and inhabited by people willing to lie to those closest to them in order to reach their goals.