Club USA Casino Blackjack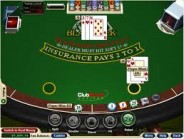 Club USA Casino Blackjack is the best bet for practicing blackjack basic strategy without stress and distractions. The game comes in both free play and real money modes and you can play up to three hands on your own table. The rules are favorable and with a house edge of only 0.71%, better than many casinos. The table minimum is $1 per hand and the maximum is $500.

Low Limit Texas Hold'Em Poker: Maximizing Winnings Through Optimization
by Carlos Abulencia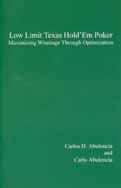 In their new book, Carlos D. Abulencia and and his son, Carlo Abulencia, teach poker players of all levels the ins and outs of Texas hold'em focusing on low limit, non-tournament cash games, with a pacing and readability that is accessible to everyone, not just seasoned card players. From how to sit down at a table to all of the relevant playing minutiae, to sophisticated strategic poker concepts, and beyond.
Read a review of Low Limit Texas Hold'Em Poker: Maximizing Winnings Through Optimization
Choosing a table is very important for all types of poker, but especially with No Limit Texas

Mike Greenberg is a dedicated poker player who always tries to improve his game. He operates the poker site Toptexasholdem.com where you can find his educating articles and thoughts on poker strategy. Mike Greenberg shows that you don't have to be the best player in the world to make a profit from poker. If you stick to the basics and play solid poker, you can beat the games at reasonably high limits. Michael's website is www.toptexasholdem.com Holdem. Every Hold'em player hopes to find a fish: a player who doesn't really know how to play Texas Holdem and whose money is ripe for the taking with very little effort. Unfortunately, this is far from the norm. By the time players make the leap from Limit to No Limit Texas Holdem, opponents will be pretty well versed in Hold'em: when to bet high and when to fold.
Your first few games at any table should be spent assessing the different players. If the players don't appear to be to your advantage, move to another table. This is a good reason to sign up with a casino that offers both a wide variety of Holdem tables as well as a steady stream of players at any time of the day. You can get a feel for the table by watching a few games play out, or playing tight the first few games.
A major mistake no Limit players make is not knowing when to raise or fold. Keep in mind that your opponents are assessing you as well. They're also looking for a quality table and getting to know their opponents. It's a good idea to be consistent with your bets. Yes, oddball betting can throw your opponents off guard, but it can also lead to a lot of losses, or not profiting as much as you could have off a stellar hand.
You need to recognize when you've been beat and duck out. Don't make things worse by raising the stakes with a bluff. You can try this once in a while but it will not work with regularity. Learn when to cut your losses and you won't lose too much in the long run. Another hint is to not call with a weak pocket when facing a raise. This is another time to fold, rather than to call and hope for the best. Again, the players are assessing you: if you don't follow these basic hints, you'll be written off as an easy win.
In addition to folding, you need to know when to raise—especially raising pre-flop. Players get a little gun shy. If they're holding a strong pocket, they don't want to give away too much. You can raise a fair amount without scaring your opponent into submission. On the flipside, don't raise too much after the flop if you've got a strong hold. As other players are trying to figure out your No Limit Texas Holdem strategy, you can't make your bets too obvious or they'll be able to read what you're holding just from the strength of the bet.