BOOTHWYN, Pennsylvania -- Lightning Poker has announced that it has entered into an agreement with Commerce Casino to install multiple Lightning Poker Tables. Commerce Casino, located in Commerce,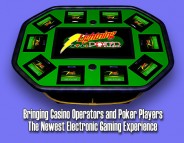 Lightning Poker Table
California, is the largest poker casino in the world with over 200 live poker tables. Additionally, Commerce hosts many of the biggest poker tournaments annually including the internationally televised L.A. Poker Classic.
"We are excited to offer this innovative electronic poker table product to our poker customers. Lightning Poker's faster and amazingly intuitive game play will offer Commerce customers a new poker option we believe will be very popular in our casino," Tim Gustin, Casino Manager, Commerce Casino.
"Lightning Poker is thrilled to install our tables at the preeminent poker destination in the world, Commerce Casino. Commerce is as knowledgeable and supportive as any casino in the world when it comes to poker and servicing poker players. We are confident that Commerce and Lightning Poker will provide Commerce's customers a truly enjoyable poker experience," Brian Haveson, CEO Lightning Poker.
About Lightning Poker(TM)
Founded in 2004, Lightning Poker(TM) designs, develops and markets gaming systems. Distributed exclusively by Shuffle Master, Inc., the Lightning Poker(TM) system is a TURNKEY, fully automated, electronic poker table. Tables decrease casino costs and increase player earnings while providing an overall entertaining experience. More information is available on www.lightningpoker.net.
Commerce Casino
6131 Telegraph Road
Commerce, CA 90040
Phone: (323) 721-2100
Website: www.commercecasino.com

Commerce Casino is one of the largest poker casinos in the world. There are more than 200 poker tables featuring just about every form of poker: Texas Hold'Em, 7-Card Stud, Omaha, Lowball, Pot Limit, Mexican Poker, Pineapple, Draw, Low-Ball and many others. Also offered are Pan and California games.