LAS VEGAS – As reported by the Associated Press: "World Series of Poker main event winner Jamie Gold has agreed to settle a dispute over half of the tournament's $12 million grand prize.
"In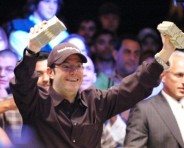 Jamie Gold won the WSOP Championship and has now settled his prize money dispute. a joint, signed statement released Tuesday to the AP, Gold and Los Angeles-based TV producer Bruce Crispin Leyser agreed the matter should be resolved 'without litigation.'
"'Jamie always intended on sharing his winnings with Crispin,' the statement says. 'Jamie and Crispin are happy to report they have fully settled this matter. They are pleased to be closing this chapter and look forward to continued success.'
"Gold, a former Hollywood agent before he turned poker pro, defeated 8,772 players to win the World Series of Poker tournament last summer in Las Vegas.
"The two did not make clear how much money Leyser would receive. Gold already withdrew $6 million, half of his take from winning the world's largest poker tournament. The rest was frozen by court order after Leyser sued in August, claiming they had agreed to split the winnings.
"Leyser said Gold agreed to the split in exchange for Leyser helping him find celebrities to play in the main event while wearing the 'Bodog' label of an offshore Internet gambling site.
"Leyser even kept what he said was a voicemail Gold left on his phone on the final day of the tournament in which Gold promised to pay Leyser 'your half.'
"At a December court hearing, U.S. District Court Judge Roger L. Hunt rejected a motion by Gold's lawyers to lift an injunction set in September on the $6 million still at the tournament host, the Rio casino-hotel, and ordered the frozen funds be moved into an interest-bearing account.
"Hunt also indicated Leyser likely would win his claim to the $6 million.