More Frugal Gambling
by Jean Scott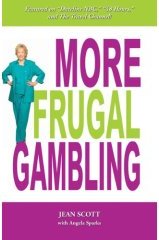 More Frugal Gambling is Jean Scott's long-awaited sequel. In the inimitable warm and reassuring style of the 'gambling grandma,' Scott reveals a further five years' worth of casino experience and exploits. More Frugal Gambling includes extensive coverage of slots, video poker, slot clubs, casino promotions, and couponing, as well as practical advice on keeping money safe, gambling and taxes, and casino security. Scott continues to be a media staple, appearing regularly on the Travel Channel.
Online Comps Can't be Beat!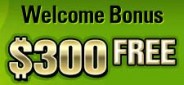 Did you know that some of the best comps in the world of gambling come from online casinos? Check out Casino Topez' exciting $300 free just for signing up and making a deposit! This is an excellent comp. Give it a try!
Join the slot club – more and more frequently called the players club to include all games – whether you plan to play at the machines or the tables OR WHETHER YOU DON'T PLAN TO PLAY AT ALL. You can do this at the club booth when you are actually in the casino, or a growing trend will allow you to join, or at least sign a guest book, online. During slow periods some casinos will send offers for free meals or hotel rooms to everyone in their database, even those who have played very little and sometimes even to those who have never actually played a game in their casino. And many casinos offer what I call "partial comps," discounts on rooms, meals, retail shop purchases, and attractions to anyone who is a slot club member, with no gambling requirements at all.
Avoid playing in the newest and fanciest casino resorts and choose the lower-level casinos if you want more bang – comps - for your risked bucks. A casino giant may not give much to a quarter slot player or a $5 table player; one of the smaller casinos may show their appreciation for your play with a shower of comps. You may find it is better to be a big frog in a small pond.