32 Vegas Top Spot for Gamblers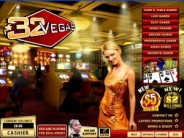 32 Vegas has a huge variety of slot machines, enough to satisfy any slot fanatic. The casino has over 30 video and classic slots to choose from including 7 progressives. You can play as little as a penny per spin all the way up to $5 per line. There are 2,3,5,8, and 9 line slots. Some of the outstanding video slot titles are Gold Rally, Vacation Station and Desert Treasure. Popular classic slots include Fountain of Youth, Bermuda Triangle, and Haunted House. With great variety, fantastic graphics, and innovative themes, 32 Vegas slots are a good thing.
LuckyAce Casino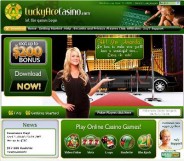 LuckyAce Casino is a new white-label casino that uses 888 software, the same platform that powers one of the oldest and most respected online gambling sites on the web, Casino-on-Net. LuckyAceCasino.com has all the most popular games including: BlackJack, Craps, Video Poker, Roulette, Keno and over two-dozen slot machines with better odds than a Las Vegas casino room. LuckyAce Casino does not accept US players.
MIAMI, Florida -- An online poker player who signed up for a free UltimateBet account just nine days ago in hopes of winning big like 11-time WSOP bracelet winner Phil Hellmuth has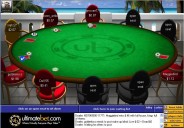 UltimateBet Online Poker Table discovered that losing is just as lucrative. UltimateBet today announced that a 19-year-old online Texas Hold'em player from Canada has won $173,693.20 playing Texas Hold'em at UltimateBet's Bad Beat Jackpot tables.
QUANTOM47, a 19-year-old Texas Hold'em player from Alliston, Ontario, Canada who registered his UltimateBet account just nine days ago, lost a hand of Texas Hold'em when his Quad Queens were crushed by RUSTY_1's Royal Flush.
At ordinary Texas Hold'em tables, a loss like that would leave even the most hardened poker player feeling devastated. But at UltimateBet's Bad Beat Jackpot tables, it's a completely different story. QUANTOM47 secured $173,693.20 for his loss while RUSTY_1, who dealt the final blow, walked away with $86,796.60. 373 other players who either participated in the hand or were seated at a Bad Beat Jackpot table with the same stakes shared in an additional $86,796.60.
Bad Beat Jackpot is just like traditional Texas Hold'em poker with an added jackpot component. In addition to rake, $0.50 is collected from qualifying poker hands and placed into a constantly growing pot until someone hits the jackpot.
When an online poker player loses a hand with four 8s or anything better, 65% of the jackpot is divided among Bad Beat Jackpot players (25% remains in the pot for the next jackpot and 10% is dedicated towards administrative fees). All players seated at a Bad Beat Jackpot table featuring the same limit and game type as where the bad beat occurred also win a piece of the jackpot.
Since November, UltimateBet has seen its Bad Beat Jackpot skyrocket to near record-breaking levels faster than ever as a result of the online poker site's significantly expanded player base. Thanks to CEREUS, the poker network that UltimateBet joined late last year in an effort to provide its players with bigger promotions, enhanced features and tighter security, the number of players seated at Bad Beat Jackpot tables has grown significantly.
Ultimate Bet is one of the most respected poker sites online and is endorsed by professionals like Annie Duke and Phil Hellmuth. The site offers Texas Hold'em, Omaha, Omaha 8/b, 7 Card Stud, 7 Card Stud 8/b, Crazy Pineapple, Crazy Pineapple 8/b, Triple Draw, Royal Hold'em. Table limits range from penny games up to $300-600.