BATON ROUGE, Louisiana.—As reported by the Associated Press: After Gov. Kathleen Blanco's warning she would veto the bills, Louisiana's video poker industry has given up on measures that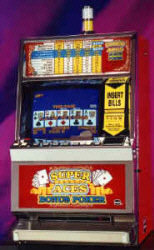 would increase the number of video poker machines at truck stops and boost the allowable bets.
The sponsors of the two bills scrapped them at a committee hearing Wednesday after industry lobbyists said they didn't want to force a fight between the governor and lawmakers over the question of what should be considered an expansion of gambling in Louisiana.
Despite the threat of veto, one lawmaker refused to drop legislation that would allow bars and restaurants to hold popular Texas Hold 'Em poker tournaments. The tournaments have been the subject of dispute because the state's top liquor regulator says they violate Louisiana's gambling laws.