Video Poker Edge
by Linda Boyd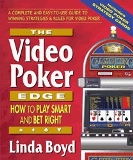 The Video Poker Edge begins by explaining the basics of video poker. It then presents sound mathematical strategies tailored to each game's specific probability. In addition to sharing groundbreaking information on the latest technological devices--including controversial video lottery terminals--Boyd reveals which casinos have machines with the best payback percentages. Throughout the book, full-color illustrations clarify the recommended tactics for various card hands. As an added bonus, the author has included handy strategy cards with valuable tips. These cards can be removed from the book and taken along to the casino for reference during play.

Bob Dancer's Video Poker For Winners!
by Bob Dancer
Bob Dancer, America's top video poker expert, has designed the latest and greatest video poker software to do everything but pay you money. You can play VP for Winners! as a game, use it as a tutorial, create strategies, focus on problem areas, check unusual hands, calculate bankroll requirements, figure slot club paybacks, check expected value, and much much more. Learn at home, practicing on the exact video poker screens you find in the casino, including games never before available in video poker software (Super Times Pay, Hundred Play, and Multi-Strike), then win at the casino! The program also contains video introductions and comprehensive help from Bob Dancer. Because Video Poker for Winners! corrects you when you're wrong, this software programs you to win.