Million Dollar Video Poker
by Bob Dancer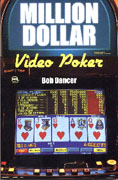 Bob Dancer is a video poker legend. His software, books, and strategy cards have become sought-after items for beginners or serious video poker players. His books provide beginners, serious players, dedicated players, tournament players and anyone even thinking of playing these addictive, sometimes lucrative machines with more angles, strategies, and stories about those who win or lose (and why) than any book published in recent years.

The Undeniable Truth About Video Poker
by Rob Singer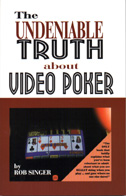 The author has been playing and losing at video poker for more than a decade and that it wasn't until he realized that expert play and expert strategy didn't apply to him. Nor, he believes, does it apply to most people who play video poker. His contention is that since there is no true definition of long-term as far as profitability is concerned, the player must focus on a short term, and adjust not only his playing strategy but his bankroll and expectation. Here he explains how he pulled himself out of the category of "loser" and elevated himself to such a winning status that he now profits virtually every time he sets out to play.