Gambling Teachers Ebook
by Gayle Mitchell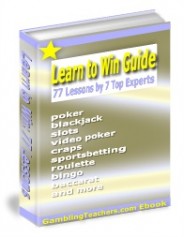 Learn to Win Guide: 77 Lessons by 7 Top Experts. 10 Program Chapters: 1) Poker-7 Games. 2) Blackjack. 3) Craps 4) Video Poker 5) Slots 6) Bingo & Keno. 7) Roulette. 8) Other Games: Baccarat & European Games. 9) Sports Betting and 10) Gambling Strategies-Tips from the GT team. Chapters 11) Online Gambling and 12) Gambling Teachers Blog, Lesson 77 completes the Guide. PDF format.


Your Winning Strategy to Video Poker
by Raymond Clarke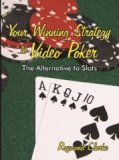 If you are looking for tips for video poker, check out the Raymond Clarke's 'Your Winning Strategy to Video Poker: An Alternative to Slots'. The book is filled with common sense tips and strategy for playing video poker and having fun while you're at it.