Million Dollar Video Poker
by Bob Dancer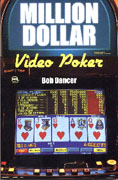 Bob Dancer is a video poker legend. His software, books, and strategy cards have become sought-after items for beginners or serious video poker players. His books provide beginners, serious players, dedicated players, tournament players and anyone even thinking of playing these addictive, sometimes lucrative machines with more angles, strategies, and stories about those who win or lose (and why) than any book published in recent years.

Gambling Teachers Ebook
by Gayle Mitchell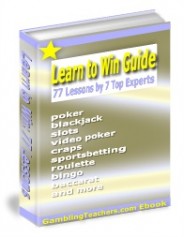 Learn to Win Guide: 77 Lessons by 7 Top Experts. 10 Program Chapters: 1) Poker-7 Games. 2) Blackjack. 3) Craps 4) Video Poker 5) Slots 6) Bingo & Keno. 7) Roulette. 8) Other Games: Baccarat & European Games. 9) Sports Betting and 10) Gambling Strategies-Tips from the GT team. Chapters 11) Online Gambling and 12) Gambling Teachers Blog, Lesson 77 completes the Guide. PDF format.