Video Poker Edge
by Linda Boyd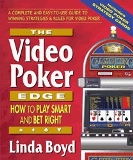 The Video Poker Edge begins by explaining the basics of video poker. It then presents sound mathematical strategies tailored to each game's specific probability. In addition to sharing groundbreaking information on the latest technological devices--including controversial video lottery terminals--Boyd reveals which casinos have machines with the best payback percentages. Throughout the book, full-color illustrations clarify the recommended tactics for various card hands. As an added bonus, the author has included handy strategy cards with valuable tips. These cards can be removed from the book and taken along to the casino for reference during play.

The Video Poker Answer Book
by John Grochowski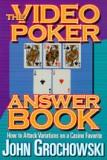 Originally published in 2000 with a second printing in 2004, The Video Poker Answer Book has plenty of fun facts about the rise of video poker -- and lots and lots of strategy advice. Unique among video poker books, The Video Poker Answer Book focuses on how strategy changes with the different pay tables we see in casinos.