Video Poker--Optimum Play
by Dan Paymar

New, second edition. A major expansion of Dan's Video Poker: Precision Play. A guide to video poker machines and the strategies necessary to beat them. Concentrates on Jacks-or-Better, Deuces Wild, Jokers Wild, and variations. Aimed at the recreational player who wants to become a serious or semi-pro player. Strategies are concise and easy to learn. Second edition introduces Dan's Attractiveness Index and covers several newer games.

The Video Poker Answer Book
by John Grochowski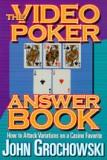 Originally published in 2000 with a second printing in 2004, The Video Poker Answer Book has plenty of fun facts about the rise of video poker -- and lots and lots of strategy advice. Unique among video poker books, The Video Poker Answer Book focuses on how strategy changes with the different pay tables we see in casinos.