Bob Dancer's Video Poker For Winners!
by Bob Dancer
Bob Dancer, America's top video poker expert, has designed the latest and greatest video poker software to do everything but pay you money. You can play VP for Winners! as a game, use it as a tutorial, create strategies, focus on problem areas, check unusual hands, calculate bankroll requirements, figure slot club paybacks, check expected value, and much much more. Learn at home, practicing on the exact video poker screens you find in the casino, including games never before available in video poker software (Super Times Pay, Hundred Play, and Multi-Strike), then win at the casino! The program also contains video introductions and comprehensive help from Bob Dancer. Because Video Poker for Winners! corrects you when you're wrong, this software programs you to win.

The Undeniable Truth About Video Poker
by Rob Singer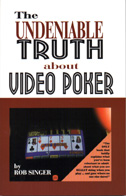 The author has been playing and losing at video poker for more than a decade and that it wasn't until he realized that expert play and expert strategy didn't apply to him. Nor, he believes, does it apply to most people who play video poker. His contention is that since there is no true definition of long-term as far as profitability is concerned, the player must focus on a short term, and adjust not only his playing strategy but his bankroll and expectation. Here he explains how he pulled himself out of the category of "loser" and elevated himself to such a winning status that he now profits virtually every time he sets out to play.