Video Poker Edge
by Linda Boyd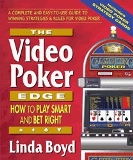 The Video Poker Edge begins by explaining the basics of video poker. It then presents sound mathematical strategies tailored to each game's specific probability. In addition to sharing groundbreaking information on the latest technological devices--including controversial video lottery terminals--Boyd reveals which casinos have machines with the best payback percentages. Throughout the book, full-color illustrations clarify the recommended tactics for various card hands. As an added bonus, the author has included handy strategy cards with valuable tips. These cards can be removed from the book and taken along to the casino for reference during play.

More Sex, Lies and Video Poker
by Bob Dancer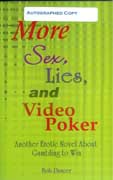 Second in the series of Dancer's video poker fiction, this is an intricately plotted erotic novel filled with the shrewd thinking and elaborate schemes of winning gamblers. It's a fast-moving and insightful book about winning at video poker. It's also about Vegas, baby! Chris is in love with Annie, but Maria wants Chris for an occasional sex-with-no-strings fling. Maria is the mistress of high roller Jimmy, who had a recent affair with Meg, Chris's sister-in-law. Meg's husband Richard, meanwhile, is pursuing Maria, whom Jimmy wants to trade with him for another crack at Meg. The whole ménage is lubricated with alcohol, abetted by guns and martial arts, and inhabited by people willing to lie to those closest to them in order to reach their goals.