Bob Dancer's Video Poker For Winners!
by Bob Dancer
Bob Dancer, America's top video poker expert, has designed the latest and greatest video poker software to do everything but pay you money. You can play VP for Winners! as a game, use it as a tutorial, create strategies, focus on problem areas, check unusual hands, calculate bankroll requirements, figure slot club paybacks, check expected value, and much much more. Learn at home, practicing on the exact video poker screens you find in the casino, including games never before available in video poker software (Super Times Pay, Hundred Play, and Multi-Strike), then win at the casino! The program also contains video introductions and comprehensive help from Bob Dancer. Because Video Poker for Winners! corrects you when you're wrong, this software programs you to win.

More Sex, Lies and Video Poker
by Bob Dancer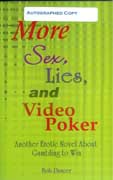 Second in the series of Dancer's video poker fiction, this is an intricately plotted erotic novel filled with the shrewd thinking and elaborate schemes of winning gamblers. It's a fast-moving and insightful book about winning at video poker. It's also about Vegas, baby! Chris is in love with Annie, but Maria wants Chris for an occasional sex-with-no-strings fling. Maria is the mistress of high roller Jimmy, who had a recent affair with Meg, Chris's sister-in-law. Meg's husband Richard, meanwhile, is pursuing Maria, whom Jimmy wants to trade with him for another crack at Meg. The whole ménage is lubricated with alcohol, abetted by guns and martial arts, and inhabited by people willing to lie to those closest to them in order to reach their goals.