Gambling Teachers Ebook
by Gayle Mitchell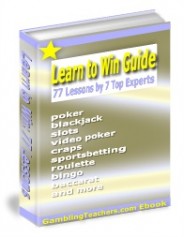 Learn to Win Guide: 77 Lessons by 7 Top Experts. 10 Program Chapters: 1) Poker-7 Games. 2) Blackjack. 3) Craps 4) Video Poker 5) Slots 6) Bingo & Keno. 7) Roulette. 8) Other Games: Baccarat & European Games. 9) Sports Betting and 10) Gambling Strategies-Tips from the GT team. Chapters 11) Online Gambling and 12) Gambling Teachers Blog, Lesson 77 completes the Guide. PDF format.


The Video Poker Answer Book
by John Grochowski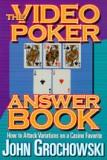 Originally published in 2000 with a second printing in 2004, The Video Poker Answer Book has plenty of fun facts about the rise of video poker -- and lots and lots of strategy advice. Unique among video poker books, The Video Poker Answer Book focuses on how strategy changes with the different pay tables we see in casinos.