Stretch Your Bankroll Online!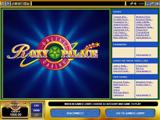 Roxy Palace can really help you stretch your casino bankroll. The casino has games with more favorable odds than you would find at most casinos in the United States. Add to that the generous bonus that you receive just for signing up, and you are getting a lot of extra playing time for your gambling dollar.
BATON ROUGE, Louisiana – As reported by the Advocate: "Pinnacle Entertainment's proposed south Baton Rouge riverboat casino would offer a menu of amenities, including restaurants,


Pinnacle Entertainment spas and big-name entertainment acts, company executives said Wednesday.
"Commenting after a meeting with state gambling regulators, Pinnacle President Wade Hundley acknowledged the company could face stiff opposition but predicted it will ultimately win public support once residents become more familiar with its plans.
"Late last month, Pinnacle filed a formal petition to seek approval for a $250 million casino and 300-room hotel resort. The project would be built on a 55-acre tract connecting to the Mississippi River near River Road and Bluebonnet Boulevard.
"Opponents already have complained that the area is residential and inappropriate for a casino. They also point to a market study indicating the Baton Rouge market isn't big enough for three boats in the face of expanding competition from Mississippi casinos.
"Economist Loren Scott concludes in the study that a third Baton Rouge casino would siphon revenue from Casino Rouge and the Belle of Baton Rouge with a glut of slot machines.
"The study — commissioned by Casino Rouge — also predicts that a third boat would drive out one of the existing competitors. . ."
Pinnacle Entertainment
3800 Howard Hughes Parkway
Las Vegas, NV 89109
Pinnacle Entertainment owns and operates casinos in Nevada, Louisiana, Indiana and Argentina, owns a hotel in Missouri, and receives lease income from two card club casinos in the Los Angeles metropolitan area. Pinnacle also has two casino development projects in the St. Louis, Missouri area, which are dependent upon final approval by the Missouri Gaming Commission.