Online Multi-Hand Video Poker!
Casino Tropez has multi-hand video poker and it comes in a number of flavors. You can play 4 or 25 hands Aces & Faces, 4 hand Jacks or Better and Deuces Wild or the 10 hand Jacks or Better progressive. The best deal for multi-hand play is the 4 hand Aces & Faces which has a great 99.3% return. If multi-hand video poker is your thing, try you hand today!
RALEIGH – As reported by News 14 Carolina: "The video poker phase out has started. Beginning Sunday, any place with three or more video poker machines is breaking the law.
"Only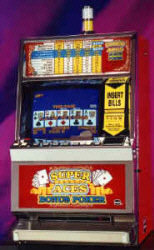 two machines are allowed in each location starting with Sunday's deadline. In March, that number will drop to just one machine, and then in July, there will be a ban on video poker machines anywhere.
"Wake County Sheriff Donnie Harrison says each place is already required to register its machines, so he doesn't foresee any problems with the 217 video poker locations in Wake County.
"'My honest opinion is when we go there we're going to find everything in compliance, but if not, we're going to take whatever action we need to take,' Harrison said.
"Currently, there are 29 places across the county that have three or more machines. There are 354 machines registered altogether. Machine owners, renters and players have tried to fight the new legislation, and they are suing to stop the phase out."