CHARLOTTE, North Carolina -- PokerTek, Inc. (NASDAQ:PTEK) announced today that six new customers worldwide have signed contracts for installation of PokerPro(TM) tables. Domestically, PokerTek will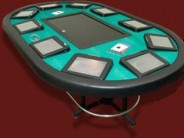 PokerTek's PokerPro Table System
install PokerPro(TM) in Michigan and Arkansas. Across the globe, Aristocrat Leisure Limited (ASX: ALL), PokerTek's international distribution partner, will install PokerPro(TM) in Australia, London and Italy. Each of the six new installations is for multiple PokerPro(TM) tables and is expected to be complete by year end.
"Casino operators around the world are recognizing that automated poker delivers both increased player satisfaction and improved poker room economics," said Lou White, Chief Executive Officer of PokerTek.
Greektown Casino of Detroit, Michigan, has agreed to be the first casino location in Michigan to offer automated
poker
. This installation comes following PokerTek's regulatory approval for the State of Michigan.
Southland Greyhound Park located in West Memphis, Arkansas is installing PokerPro(TM) tables in their new racetrack casino. This installation is a direct result of PokerTek's recent certification from Gaming Laboratories International.
Outside the United States, respected gaming giant Aristocrat has achieved great success in developing relationships with several prominent casinos. Crown Casino, Australia's largest gaming and entertainment venue, has agreed to install PokerPro(TM) tables in their poker room. Crown Casino, host to the prestigious annual Aussie Millions tournament, plans to install several PokerPro(TM) tables as they introduce automated poker in Australia's developing Poker Market.
In England, Aspers Newcastle Casino, located at The Gate, plans to install several PokerPro(TM) tables in their electronic gaming area. In addition, Ladbrokes Sports Bar & Casino land-based casino and bar based in the Paddington London Hilton will also feature PokerPro(TM). Both of these installations mark the beginning of PokerPro's(TM) presence in the London market.
Casino di Venezia situated in Venice, Italy is often referred to as the oldest casino in the world. Plans are currently underway to install PokerPro(TM) tables in their facility.
"We are excited to add these casinos in various geographical areas to our growing customer base," added Lou White. "Our customers are taking advantage of our new regulatory approvals from both GLI and the State of Michigan and we are enthusiastic about making them successful with automated poker."
PokerTek
1020 Crews Road
Suite J
Matthews, NC 28106
Phone: (704) 849-0860
Website: www.pokertek.com

PokerTek, Inc. was formed to develop and market the PokerPro(TM) system, an electronic poker table designed to provide a fully-automated poker room environment, to tribal casinos, commercial casinos, and card clubs. The PokerPro(TM) system was developed to increase casino revenue by increasing hands per hour, while helping to reduce the labor costs within poker rooms. The PokerPro(TM) system is also designed to increase players' gaming experience by eliminating dealer and player mistakes, and eliminating the need for dealer tipping.