Improve Your Poker
by Bob Ciaffone

One of the more respected writers of this generation, Ciaffone's material, now compiled under one cover, has previously appeared in a variety of publications. Here, he helps sharpen the skills of beginners and experienced players in ten different areas, including general concepts like beating a loose game, and tight/loose play. He moves to gambling skills like the mental side, and money management; then to Reading Opponents, including tells and using your eyes. A vital section on Deception and Bluffing is followed by incisive advice on Hold'em including raising and missing.
Read a review of Improve Your Poker
CHARLOTTE, North Carolina -- PokerTek, Inc. (NASDAQ:PTEK) has received regulatory product approval from the Michigan Gaming Control Board to distribute the PokerPro(TM) system in the State of Michigan.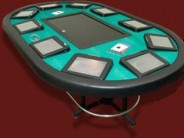 PokerTek's PokerPro Table System
PokerPro(TM) is the first automated poker table to receive approval in Michigan.
"This approval allows us to finalize contract negotiations with several commercial casinos in the State of Michigan. We are very excited about this approval, and are looking forward to receiving additional approvals in other jurisdictions in the coming months," said Lou White, Chief Executive Officer of PokerTek.
PokerTek is also happy to announce that Lou White, the Company's Chief Executive Officer and Chris Daniels, the Company's Chief Financial Officer will be presenting at ONTRACK 2006, a small cap Investor conference hosted by Noble Financial Group. The event will be held September 26th through the 28th at Ballantyne Golf and Spa Resort and Lowe's Motor Speedway in Charlotte, North Carolina. The presentation is scheduled at 8:45 a.m. E.D.T. on September 28, 2006. The audio portions of the presentation will be simultaneously webcast and available at www.ontrack06.com and on PokerTek's website at www.pokertek.com.
PokerTek
1020 Crews Road
Suite J
Matthews, NC 28106
Phone: (704) 849-0860
Website: www.pokertek.com

PokerTek, Inc. was formed to develop and market the PokerPro(TM) system, an electronic poker table designed to provide a fully-automated poker room environment, to tribal casinos, commercial casinos, and card clubs. The PokerPro(TM) system was developed to increase casino revenue by increasing hands per hour, while helping to reduce the labor costs within poker rooms. The PokerPro(TM) system is also designed to increase players' gaming experience by eliminating dealer and player mistakes, and eliminating the need for dealer tipping.