Phil Gordon's Little Blue Book
by Phil Gordon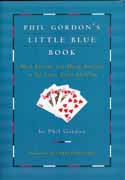 Valuable sections include Cash Games AND Tournament Play; Sit and Gos; Satellites and Supersatellites. Nicely illustrated with many lessons, examples and analysis, it's a balanced, smooth-reading textbook, some of which is based on the author's experience. This balance of common sense, strategies, ploys and an honest appraisal of what was going through his mind when he made his moves adds strength to this powerful, positive pack of lessons. One unique approach is to 'improve at poker is not by finding answers. It is by finding questions,' says champion Chris Ferguson in the foreward. This companion book to Gordon's Little Green Book does just that.
Read a review of Phil Gordon's Little Blue Book
CHARLOTTE, North Carolina -- PokerTek, Inc. (NASDAQ:PTEK) has received regulatory product approval from the Michigan Gaming Control Board to distribute the PokerPro(TM) system in the State of Michigan.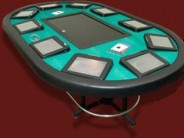 PokerTek's PokerPro Table System
PokerPro(TM) is the first automated poker table to receive approval in Michigan.
"This approval allows us to finalize contract negotiations with several commercial casinos in the State of Michigan. We are very excited about this approval, and are looking forward to receiving additional approvals in other jurisdictions in the coming months," said Lou White, Chief Executive Officer of PokerTek.
PokerTek is also happy to announce that Lou White, the Company's Chief Executive Officer and Chris Daniels, the Company's Chief Financial Officer will be presenting at ONTRACK 2006, a small cap Investor conference hosted by Noble Financial Group. The event will be held September 26th through the 28th at Ballantyne Golf and Spa Resort and Lowe's Motor Speedway in Charlotte, North Carolina. The presentation is scheduled at 8:45 a.m. E.D.T. on September 28, 2006. The audio portions of the presentation will be simultaneously webcast and available at www.ontrack06.com and on PokerTek's website at www.pokertek.com.
PokerTek
1020 Crews Road
Suite J
Matthews, NC 28106
Phone: (704) 849-0860
Website: www.pokertek.com

PokerTek, Inc. was formed to develop and market the PokerPro(TM) system, an electronic poker table designed to provide a fully-automated poker room environment, to tribal casinos, commercial casinos, and card clubs. The PokerPro(TM) system was developed to increase casino revenue by increasing hands per hour, while helping to reduce the labor costs within poker rooms. The PokerPro(TM) system is also designed to increase players' gaming experience by eliminating dealer and player mistakes, and eliminating the need for dealer tipping.