CHARLOTTE, N.C. -- Harrah's has signed a multi-year agreement to make PokerTek its exclusive provider for live, player-banked, automated poker tables.
Under the agreement, Harrah's, which operates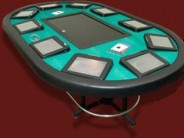 PokerTek's PokerPro Table System
50 casinos in 13 states and six countries and runs the annual
World Series of Poker
, may install PokerPro tables concurrently with appropriate regulatory approvals. With more than 450 manual poker tables, Harrah's is one of the largest operators of poker in the world.
"We believe that there is a market for automated poker throughout our properties," said Gerry Tuthill, Corporate Vice President of Table Games for Harrah's. "Poker continues to boom and many players who have learned the game enjoy the fast paced action PokerPro tables offer."
"We are honored to have the opportunity to work with Harrah's," said Lou White, Chief Executive Officer of PokerTek. "Harrah's has a long track record of successfully launching gaming innovations and we believe this transaction will benefit the PokerPro brand."
In addition to providing automated poker products to Harrah's, PokerTek has been granted the exclusive right to market a World Series of Poker branded version of PokerPro tables as a standard offering available to all PokerTek customers.
"We welcome the opportunity to extend the reach of the World Series of Poker through this arrangement," said Jeffrey Pollack, WSOP Commissioner. "The WSOP is the number one brand in poker, and PokerTek is a welcome addition to our team."
"The World Series of Poker is a prestigious brand and we're excited to work with it," said James Crawford, President of PokerTek. "To package the WSOP brand with PokerPro products should accelerate player adoption and interest in automated poker."
Caesars Entertainment
One Caesars Court
Las Vegas, NV 89119
Phone: (702) 407-6000
Fax: (901) 762-8637
Website: www.caesars.com

Caesars Entertainment owns or manages through various subsidiaries more than 40 casinos in three countries, primarily under the Harrah's, Caesars and Horseshoe brand names. Caesars also owns the World Series of PokerŪ and the London Clubs International family of casinos.
PokerTek
1020 Crews Road
Suite J
Matthews, NC 28106
Phone: (704) 849-0860
Website: www.pokertek.com

PokerTek, Inc. was formed to develop and market the PokerPro(TM) system, an electronic poker table designed to provide a fully-automated poker room environment, to tribal casinos, commercial casinos, and card clubs. The PokerPro(TM) system was developed to increase casino revenue by increasing hands per hour, while helping to reduce the labor costs within poker rooms. The PokerPro(TM) system is also designed to increase players' gaming experience by eliminating dealer and player mistakes, and eliminating the need for dealer tipping.