CHARLOTTE, N.C. -- PokerTek, Inc. the innovator of the world's first automated poker table, PokerPro, announces five more poker rooms where poker players can experience the added fun and excitement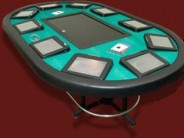 PokerTek's PokerPro Table System
of PokerPro tables. The latest PokerPro locations include:
Crown Casino, Melbourne, Australia
Carnival City, Johannesburg, South Africa
Greektown Casino, Detroit, Michigan
MotorCity Casino, Detroit, Michigan
FLB Sports Bar & Casino, Folsom, California
Crown Casino in Melbourne, Australia has completed the launch of the world's largest automated poker installation, comprised of ten PokerPro tables. Crown Casino is home to the Aussie Millions, the Southern Hemisphere's richest poker tournament. The 2007 Aussie Millions schedule included a $1,050 buy-in PokerPro tournament which ran completely on PokerPro automated poker tables. The installation was arranged through Aristocrat Leisure Limited, PokerTek's exclusive distributor outside of the U.S. and Canada.
"It has been encouraging to see players adopt this product so quickly," said Richard Longhurst, COO of Gaming at Crown Casino. "The PokerPro tables are meeting our expectations in both productivity and player demand. We are enthusiastic about the growth potential for automated poker at Crown."
PokerPro tables also reached the continent of Africa with the recent installation of four tables at Sun International's Carnival City in Johannesburg, South Africa.
"The PokerPro tables are enhancing the product offering of Sun International Venues. The four tables at Carnival City have only been installed for five weeks and have already proven to be an exceptional product," said Des Whitcher, Gaming Director at Sun International. "We are pleased to be the first casino in Africa to feature PokerPro."
Domestically, PokerPro tables were installed in Detroit, Michigan at both Greektown and MotorCity Casinos. Both casinos have installed two PokerPro tables and plan to offer Sit-N-Go tournaments and cash games with limit and no-limit action.
FLB Sports Bar & Casino in Folsom, California, is the first location where PokerTek has converted an existing operation into a 100% automated room and is the first fully-automated card club in the United States, running five PokerPro tables. After a successful launch, FLB hosted the world's first automated Texas Hold'Em multi-table tournament.
"We are proud to have the opportunity to work with each of these innovative operators as they adopt and benefit from automated poker," said Lou White, Chief Executive Officer of PokerTek. "Our focus will remain on partnering with cutting-edge operators to bring PokerPro automated poker tables to players everywhere.
PokerTek
1020 Crews Road
Suite J
Matthews, NC 28106
Phone: (704) 849-0860
Website: www.pokertek.com

PokerTek, Inc. was formed to develop and market the PokerPro(TM) system, an electronic poker table designed to provide a fully-automated poker room environment, to tribal casinos, commercial casinos, and card clubs. The PokerPro(TM) system was developed to increase casino revenue by increasing hands per hour, while helping to reduce the labor costs within poker rooms. The PokerPro(TM) system is also designed to increase players' gaming experience by eliminating dealer and player mistakes, and eliminating the need for dealer tipping.