It was less than six months ago that the number of American online poker players numbered in the millions and the top 10 online poker rooms saw up to 30,000 players a day. This all changed dramatically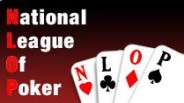 The NLOP (National League of Poker) is a good bet for poker players who want tournament action. when Congress passed the UIGEA or Unlawful Internet Gambling Enforcement Act. Many of the leading online poker rooms immediately pulled out of the US market including well-know brands like PartyPoker, Paradise Poker, and Titan Poker. For a while, poker buffs were able to shift to rooms that continued to accept US players, but things again took a turn for the worse with the departure of NETeller, the most popular way to make deposits and withdrawals from online gambling accounts. Over the past few months, it has become more and more difficult for players to fund accounts, and many online poker aficionados are being left without a game and a place to play.
Now a US-based company has come along that fills the needs of online poker playing fans. The National League of Poker is a Framingham, Massachusetts operation that provides the thrill of online poker at no charge, but gives players something worth playing for – cash and prizes. Unlike playing at other free sites where the only thing at stake is pride, NLOP gives players the opportunity to win things of value.
How do they do it? Well, it's a lot like a TV channel, but instead of passively watching the screen, you are playing poker. Unless you play every hand, which is going to take you out of contention early, there are going to be times where you are just waiting for the next deal. During your idle time, advertisers think it's worth something to show you products that may interest you. The advertisers provide the revenue to NLOP that funds the cash and prizes, which are up to $25,000 per month and can include seats to the World Series of Poker. The great thing about this arrangement is that since playing costs nothing, the game is completely legal.
The NLOP uses a point system to rank players. You get points for registering and a set amount every day. You must spend some points to enter tournaments; the amount depends on the tournament type you play. You mostly earn points by winning at poker, but you can also earn points by filling out questionnaires and referring friends to the site
I spent the past weekend as part of a Texas Hold'em tournament and I can tell you from first-hand (pun intended) experience, it was a lot of fun. The action was sophisticated and the hands were interesting. There were a lot of players at the tables, and a good camaraderie was evident.
The site uses browser-based poker software that has many of the bells and whistles you expect from a good online poker room. You can pre-fold or check, auto-post the blinds, auto-muck and make your bets easily. There's a chat feature and a hand history. The action's fast, but I never felt rushed, as the timer for each decision is generous.
Power Play Development Corp, the company that owns the NLOP, also has another division called PokerCreations.com. This division works with corporations and other organizations that want to hold online poker tournaments as part of a marketing or team-building campaign. PokerCreations licenses their software and sets it up to match the look and feel for the corporation's needs. According to Michael Clebnik, the COO of the company, the benefits to companies are substantial. Last year, Milwaukee's Best Light Beer hosted a six-week Texas Hold'em poker tournament using PokerCreations' software and saw their online traffic increase by 60% during that time.
I asked Clebnick if the turmoil in the online poker world is affecting the NLOP.
"We've seen a nice rise in registrations over the past few months," he told me. "But since we only launched NLOP last year, it's hard to say how much is coming from our marketing efforts and word-of-mouth versus online poker players looking for a safe and legal place to play."
Right now the NLOP has over 70,000 registered users and is signing up over 10,000 per month. This growth can only lead to better things for both the company and the players. With more players, the NLOP will be able to attract more advertising dollars, which will increase the number and amount of the prizes.
As Clebnick explains, "People understand the television model of advertising. While the ads are there, they don't intrude on the game. Plus, in the future, we'll be able to match advertising with the interests of the users, giving them more control over what they see."
The idea of targeted advertising makes a lot of sense and could actually make the experience of waiting between hands a lot more fun.
It seems that everything is falling into place for the NLOP and Clebnick agrees. "We don't have problems with finding interested parties right now. If anything, we're drowning in opportunities." As far as future plans, the company is releasing upgrades to its software platform in the next few weeks, including a downloadable version. They are also launching authorized "Tour-Stop" promotions, where other portals and sites can host poker tournaments that send the winners to a NLOP championship tournament.
To learn more about the National League of Poker, visit the website www.nlop.com. If you are interested in using online poker software for marketing and traffic building, visit www.pokercreations.com.
National League of Poker (NLOP)
2 Watson Place
Building 3, 2nd Floor
Framingham, MA 01701
Phone: info@nlop.com
Website: www.nlop.com

NLOP is the first completely free-to-play online poker portal that offers players a risk-free poker environment to play in, and awards cash and prizes to winners.