LAS VEGAS -- The new king of poker was crowned early today when Malibu, California, resident Jamie Gold, 36, won the No-Limit Texas Hold'Em Main Event at the 37th annual
World Series of Poker
presented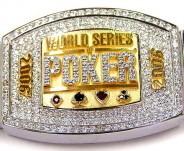 The World Series of Poker champion's bracelet.
by Milwaukee's Best Light. Gold took home $12 million, the largest prize ever awarded in a live poker tournament.
He outlasted a record field of 8,773 players who anted up the $10,000 buy-in for the Main Event, creating an unprecedented prize pool of $82.5 million -- the largest for any sporting event in history. The Main Event at the Rio All-Suite Hotel & Casino was the culmination of the 46-event World Series of Poker, which this year generated more than $158 million in total prize money.
Gold was the chip leader since Day 3 of the 10-day Main Event and never relinquished the lead.
"I just feel very fortunate that things went my way," said Gold. "I was playing the best poker of my life. I was in a zone where I just felt like I could manipulate people."
"We congratulate Jamie Gold on his tremendous accomplishment," said Jeffrey Pollack, commissioner of the World Series of Poker. "He played superb poker over a prolonged period against a record field that included virtually every top professional and thousands of talented amateurs from around the world."
On the final hand of the tournament, Gold's pair of queens beat Westminster, Colorado, resident Paul Wasicka's pair of 10s. Wasicka earned $6,102,499 million for his second-place finish.
Michael Binger of Atherton, California, finished third, collecting $4,123,310. The remaining players at the final table were:
4th place: Allen Cunningham, Las Vegas, Nevada, $3,628,513
5th place: Rhett Butler, Rockville, Maryland, $3,216,182
6th place: Richard Lee, San Antonio, Texas, $2,803,851
7th place: Douglas Kim, Hartsdale, New York, $2,391,520
8th place: Erik Friberg, Stockholm, Sweden, $1,979,189
9th place: Dan Nassif, St. Louis, Missouri, $1,566,858
The 2006 Main Event attracted the largest field of participants ever to enter a live poker tournament. The previous record of 5,619 players was set at the 2005 World Series of Poker Main Event, won by Joseph Hachem of Melbourne, Australia. Hachem pocketed a then-record $7.5 million.
Television coverage of the 2006 World Series of Poker World Championship Main Event begins August 22 on ESPN and continues on Tuesday nights at 8 and 9 p.m. until September 26 when action at the final table is broadcast.