LAS VEGAS -- As reported by the Associated Press: "Lawyers for
World Series of Poker
winner
Jamie Gold
and a Los Angeles-based TV development executive have agreed to a court injunction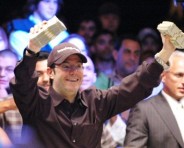 Jamie Gold won the WSOP Championship and has now settled his prize money dispute.
freezing US$6 million, half of the top prize, in a dispute about a deal to split the winnings.
"U.S. District Court Judge Roger L. Hunt was expected to sign the order soon, said Richard Schonfeld, the lawyer for plaintiff Bruce Crispin Leyser.
"'Everybody agreed the preliminary injunction would be issued,' Schonfeld said Tuesday.
"The injunction would prevent the money from leaving the poker tournament's host, the Rio hotel-casino, until the case concluded. Gold's lawyers would have until Sept. 15 to challenge the injunction, he said.
"Leyser alleges that Gold, a former Hollywood talent agent, agreed in July to split his winnings in exchange for Leyser helping him find celebrities to play in the main event while wearing the Bodog label of an offshore Internet gambling site.
"Bodog paid the $10,000 entry fee for Gold, who beat 8,772 players to win the world's largest poker tournament, and the $12-million top prize.
"Leyser alleges he fulfilled his end of the deal - getting Scooby Doo star Matthew Lillard and Punk'd comedian Dax Shepard to wear the brand - but claimed Gold has refused to hand over $6 million.
"Gold's lawyers could not immediately be reached for comment.
"Bodog has said it included Gold on its celebrity roster of players because of his help putting the team together, his relationship with mentor Johnny Chan and his tournament experience, but said the company was not aware 'of any side deal he may have made.'"