PROVIDENCIALES, Turks & Caicos -- Jamie Gold, the recent winner the Main Event of the 2006 World Series of Poker (WSOP), is the current chip leader at the TCI International Poker Tournament Featuring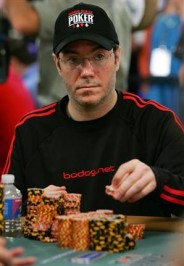 Past champion Jamie Gold was eliminated in an early round of the 2007 World Series of Poker.
Johnny Chan, being played on the Turks & Caicos Islands. Gold has not participated in a poker tournament since his August 11th WSOP win. That was the largest and richest game in poker history. Gold won a staggering $12 million dollars.
Today, Jamie will be going into the second-to-last day of the tournament with only 30 other competitors left. The final table is set for tomorrow, Friday, September 15th, 2006. Other world-renowned players participating in the 8-day tournament include David Williams, Jeff Madsen, Sam Simon, Amir Vahedi, Ian Frazer, Carlos Mortenson, Jac Arama,
David 'Devil Fish' Ulliot
, and Gold's mentor, Johnny Chan.
Sponsored at the WSOP by Bodog.net, Gold also has a two-year endorsement deal with the company -- the largest endorsement deal in poker history. The
2006 World Series of Poker
is currently running on ESPN. Click here for a complete viewing
schedule
.