Vancouver, Canada - 2006
World Series of Poker
Main Event champion and Team Bodog pro
Jamie Gold
hosted the first BodogFIGHT Celebrity Poker Tournament in Vancouver, British Columbia, Canada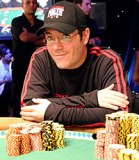 Jamie Gold won the 2006 World Series of Poker Main Event
on Dec. 2, held in conjunction with the BodogFight: USA vs Russia Pay-Per-View event. The private function saw Gold along with television, film and sport stars compete for a first-place prize that included a stunning Giantto watch. The second place prize was a 2007 WSOP Main Event buy-in while third place was worth a complete Bodog Poker Set, including a custom-made Bodog poker table and a custom Bodog poker chip set.
The heated tournament was won by none other than Jamie Gold. The second place winner, who will go to next year's World Series of Poker courtesy of Bodog, is actor Aaron Douglas. Douglas plays Chief Petty Officer Galen Tyrol on the Sci-Fi Channel's hit show, "Battlestar Galactica." The third place winner was actor Ryan Robbins, who currently stars on the Canadian TV comedy "Alice, I Think."
Other celebs who attended the poker tourney included Jared Padalecki (Supernatural), UFC champ Phil "The NY Badass" Baroni, Tom Europe (CFL Hall of Famer), Michael Eklund (BloodRayne II: Deliverance, Intelligence), and Woody Jeffries (Blond and Blonder). They were joined at the BodogFIGHT PPV event by Paul McGillion (Stargate: Atlantis), Ty Olsson (Class of the Titans), James Tupper (Men In Trees), and actors Aleks Paunovic, Adrian Holmes, and Aaron Pearl.
Bovada is an offshoot of Bodgo,one of the most recognizable and popular betting and gambling sites on the Internet. It is a casino that offers US citizens a place to gamble online.