ISLE OF MAN -- Two Microgaming Poker Network players have won a whopping $120,000 by hitting the Bad Beat Jackpot.
The two players from Ladbrokes, which has recently joined the Network, both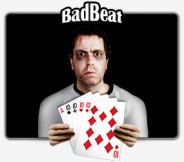 hit four-of-a-kind hand, which is the requirement for Microgaming's innovative Bad Beat Jackpot. Both players were on Bad Beat Table 1 and the stakes were $1/$2.
The Bad Beat Jackpot has been a mainstay on the Network since it began, the last Bad Beat Jackpot in poker was hit in October last year. A Bad Beat in poker is when you have a great hand, which is easily the favourite to win, but this is then beaten by another hand.
The Ladbrokes players' alias Tjv1964 and alias Carrotkid, have both been playing regularly on Ladbrokes site for over two years. They have now reaped the benefits of the Microgaming Poker Network Bad Beat Jackpot, which is already growing again.
Nigel Blower, Head of Events and Promotions at Ladbrokes Poker comments, "It's great to see that Ladbrokes players are already taking advantage of network promotions such as the Bad Beat Jackpot and reaping the rewards just six weeks after us joining forces with Microgaming."
Microgaming is the world's largest provider of poker, casino and bingo software. Since Ladbrokes joined the network in February this year, Microgaming's Poker Network, which powers 40 of the world's leading poker rooms, has continued to grow in strength and recently reached eighth position on Poker Scout's prestigious ranking – leaving their competitors trailing behind.
Ladbrokes plc
Imperial House, Imperial Drive
Rayners Lane, Harrow
Middlesex HA2 7JW
United Kingdom
Phone: +44 (0)208 868 8899
Fax: +44 (0)208 868 8767
Website: www.ladbrokes.com

Ladbrokes is one of the world's leading bookmakers, with the biggest estate of betting offices in the world, telephone betting via three state of the art call centres, and world class eGaming operations offering an extensive range of betting and gaming services via www.ladbrokes.com as well as interactive TV and mobile betting services. The business remains focused on growth both at home and in the increasingly competitive global marketplace.