ATLANTIC CITY, New Jersey -- As reported by The Press of Atlantic City: "Trump Entertainment Resorts Inc. and its bondholders agreed Wednesday to a weeklong extension of their negotiations on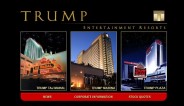 Trump Entertainment Resorts a $1.25 billion debt restructuring to save the company from another trip through bankruptcy.
"'Talks are continuing. As long as everyone keeps talking, that's considered progress,' said Mark Juliano, Trump Entertainment chief executive officer. 'We're still hopeful an amicable resolution is in store.'
"Both sides had set Wednesday as the latest deadline for negotiations, but they consented to extending the talks to Feb. 11. It took until nearly 7 p.m. Wednesday to get the final paperwork signed. It was the third time negotiations have been extended following Trump's failure on Dec. 1 to make a $53.1 million interest payment on $1.25 billion of corporate debt.
"In addition, the lenders involved in a $490 million Trump Entertainment loan have agreed to wait until Feb. 11 to invoke a clause that could accelerate their payments and put further pressure on Donald Trump's shaky casino empire.
"The new deadline gives the three Trump casinos extra time to avoid what would be their third round in bankruptcy since the early 1990s. Juliano has said all along that the company and bondholders would prefer to restructure the debt without having to go through a bankruptcy reorganization..."
Trump Entertainment Resorts
725 Fifth Avenue
New York, NY 10022
Toll Free Phone: (877) DJTRUMP
Website: www.trumpcasinos.com

Trump Entertainment Resorts, Inc. operates three properties including Trump Taj Mahal Casino Resort and Trump Plaza Hotel and Casino, located on the Boardwalk in Atlantic City, New Jersey, and Trump Marina Hotel Casino, located in Atlantic City's Marina District. Together, the properties comprise approximately 371,300 square feet of gaming space and 3,180 hotel rooms and suites.