ATLANTIC CITY, New Jersey -- Trump Entertainment Resort will present Keith Urban and Carrie Underwood at Atlantic City's Historic Boardwalk Hall on Friday, February 15, 2008. Doors are at 6:00 pm and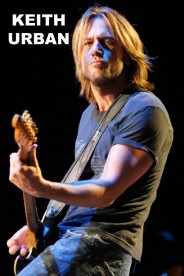 Keith Urban will be playing at the Mandalay Bay Events Center July 18 show time is at 7:30 pm.
Keith Urban is an Australian Grammy Award winning, country music singer. Two of his albums, Be Here (2004) and his latest album, Love, Pain & the whole crazy thing (2006), have reached the Top 10 on the U.S. Billboard 200 albums chart. He has scored seven number one songs in the United States to date and a total of sixteen top ten hits.
Urban is also a winner of numerous "Golden Guitars", which are presented annually during the Tamworth Country Music Festival at "The Country Music Association of Australia's Annual Awards" in Tamworth, Australia. He is also a former winner of the Toyota Starmaker Contest, which is held each year in conjunction with the CMAA Awards and the Tamworth Country Music Festival.
In the U.S., Keith Urban first came to prominence in 1997 as a member of The Ranch, a country rock trio. His first solo album in the U.S., 1999's self-titled effort, has since gone platinum signifying sales of more than 1 million copies. The CD spawned his first No. 1, the stirring "But For The Grace Of God." It also established his awe-inspiring prowess as a guitar player with lightening dexterity. But Urban was just getting started. In addition to the CMA and ACM awards, he also received his first Grammy nomination for best country instrumental for "Clutterbilly."
Urban released his first greatest hits collection, Greatest Hits: 18 Kids, on November 20, 2007. The CD contains all of his #1 hits, along with two new songs, "Romeo's Tune" and "Got It Right This Time (The Celebration)." Some of his hits include: "It's a Love Thing," "But for the Grace of God," "Your Everything," "Raining on Sunday," "You'll Think of Me" and many others.
Carrie Underwood is an American pop country music singer who won the fourth season of American Idol. She has since become a multi-platinum selling recording artist. For more information about Carrie Underwood, visit www.carrieunderwoodofficial.com
Ticket prices are $45, $65, $95 and $125. Tickets will go on sale Saturday, December 15, 2007.
About Trump Entertainment Resorts:
Trump Entertainment Resorts, Inc owns and operates three properties in Atlantic City, New Jersey: the Trump Taj Mahal Casino Resort, Trump Plaza Hotel and Casino and Trump Marina Hotel Casino
Trump Entertainment Resorts
725 Fifth Avenue
New York, NY 10022
Toll Free Phone: (877) DJTRUMP
Website: www.trumpcasinos.com

Trump Entertainment Resorts, Inc. operates three properties including Trump Taj Mahal Casino Resort and Trump Plaza Hotel and Casino, located on the Boardwalk in Atlantic City, New Jersey, and Trump Marina Hotel Casino, located in Atlantic City's Marina District. Together, the properties comprise approximately 371,300 square feet of gaming space and 3,180 hotel rooms and suites.