NEW YORK, New York -- As reported by CNN: "Recession-weary Americans aren't gambling the way they used to -- and that could be a problem for many U.S. states already struggling with record budget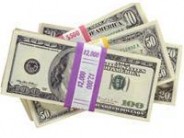 Less money was gambled in 2009 than in 2008. gaps due to the weak economy.
"State revenues from all sources of authorized gambling fell 2.8% in fiscal 2009, according to a report from the Rockefeller Institute of Government released Monday. It was the first decline in data going back at least 20 years.
"'It's not a huge decline, but it's sobering,' said Mark Marchand, director of communications for the Rockefeller Institute.
"...Income from casinos fell 8.5%, while revenue from pari-mutuel wagering, which includes dog and horse racing, sank nearly 15%.
"However, revenue from race tracks that also host electronic gambling machines such as slot-machines, or "racinos," increased by 6.7%, largely because of new racinos opening in Indiana and Pennsylvania, the report said..."